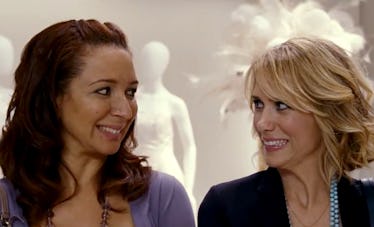 Kristen Wiig & Maya Rudolph Are Getting Their Own Show, So Get Ready 'Bridesmaids' Fans
Universal Pictures
It has been over seven years since Bridesmaids hit theaters, proving in no uncertain terms that Kristen Wiig and Maya Rudolph are a comedy dream team, and now the duo is preparing to team up again on their very own TV show. Fox just picked up a new comedy series called Bless the Harts that will reunite Saturday Night Live and Bridesmaids stars Maya Rudolph and Kristen Wiig in lead roles. So when does Bless the Harts premiere, and what will this new comedy be about? Let's go over everything we know about the new show.
Maya Rudolph and Kristen Wiig will be joined by comedians Jillian Bell and Ike Barinholtz to round out the main cast of Bless the Harts. Jillian Bell is best known for her recurring role on Workaholics, her Comedy Central series Idiotsitter, and her role in movies like Rough Night and 22 Jump Street. You probably recognize Ike Barinholtz from The Mindy Project or movies like Sisters and Blockers. The whole main cast also share a background in sketch comedy — of course, Maya Rudolph and Kristen Wiig were both on Saturday Night Live for multiple seasons, and Jillian Bell got her start as a writer for the show, while Ike Barinholtz spent the better part of the 2000s as a cast member on MADtv.
Bless the Harts is a half-hour, animated comedy series, the type that Fox became known for following the success of other adult animated series like The Simpsons, Family Guy, and Bob's Burgers. Although the network has not announced when Bless the Harts will air yet, it sounds pretty likely that it will join Fox's Sunday night animation block, possibly replacing the recently cancelled live-action series The Last Man on Earth. This seems especially likely since Bless the Harts is actually being made by the team behind The Last Man on Earth: executive producers Phil Lord, Christopher Miller, and Seth Cohen. Kristen Wiig actually recurred on the final season of The Last Man on Earth as an eccentric socialite.
The new series is created by Emily Spivey, a veteran comedy writer who has worked with Kristen Wiig and Maya Rudolph many times before on projects like Saturday Night Live, Up All Night, The Last Man on Earth, Masterminds, and the upcoming movie Wine Country. The show will draw from Spivey's Southern background, and center on a group of broke Southerners who are constantly trying to get rich and famous.
Fox's entertainment president Michael Thorn underlined how important Emily Spivey's voice will be for Bless the Harts in his statement announcing the show's pick-up:
Emily Spivey has the uncanny ability to observe the simplest qualities of everyday life, framing together bold characters and hilarious stories built around warmth and heart. Having grown up in a close-knit Southern family, she has a deep well of material that has inspired her to create this show, with a phenomenal cast, headlined by Kristen, Maya, Jillian and Ike. As home to television's most iconic animated families – the Simpsons, Griffins and Belchers – we're thrilled to welcome the Harts to Fox.
Look for Bless the Harts to debut on Fox during the 2019-20 season.