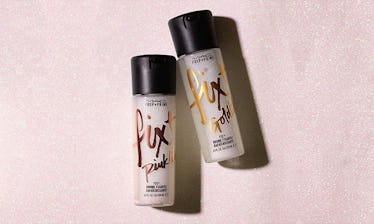 MAC's Dropping Shimmer Prep + Prime Sprays, So You Can Be A Unicorn With Long-Lasting Makeup
MAC Cosmetics
Mac's Prep + Prime spray can be used in a million and one different ways, including prepping the skin, as a setting spray, and as a solo hydrating mist. But thanks to the new shimmer versions, you can also impart a fresh glow. When do Mac Prep + Prime shimmer sprays drop? Put it this way, they've already launched in the UK, so we can expect them any day now.
Before liquid makeup became the popular vote, my makeup bag had two very important staples: Mac Cosmetics' Studio Fix Powder Plus Foundation ($30; maccosmetics.com) and Prep + Prime Fix + spray ($26; maccosmetics.com). I would soak my face with the spray, then buff the powder onto my skin with a brush. I didn't realize it back then, but I was basically making my own liquid makeup. All I knew was I loved how smooth my concoction made my face look and how much coverage it gave me.
'Til this day, I still use that magical liquid spray to turn powders into liquids, set my makeup, and I even spritz it on after a long day to revive my makeup before touching it up for an evening out. Though the holy grail of makeup mists hydrates skin and gives your makeup a dewy finish, the original doesn't give you that shimmery lit-from-within glow most of us crave. So, what does Mac do? They get in the lab, rework the formula, and hit us with that Prep + Prime Fix + (Shimmer).
Prep + Prime Fix + (Shimmer), $26, Mac Cosmetics
Available in two shades, the brand new Prep + Prime Fix + (Shimmer) sprays are the update you didn't know you needed. Mac took to Instagram to post, "Your fave Fix+ just got a mega-watt upgrade! Beam your way into the spotlight with Pinklite and Goldlite – the same refreshing formula, now infused with pearlescent particles!"
And the best part is the shimmery finish is completely buildable. Go for a hint of shine or opt for a full-on holographic finish.
Pinklite is a pretty rosy shade perfect for adding a shimmery flush to the skin. Add a little extra on your cheeks, lids and cupids bow for a pinky glow that makes your complexion pop.
Goldlite is infused with gold shimmer that gives you a sheer, subtle bronzy glow that can only be rivaled by a weekend in Palm Springs.
And the best part is these brand new shimmer-infused versions are made of the same formula we all know and love, so you can still use it as a spray-on primer, a mixing product, a setting spray, hydrating face mist, everything.
So when do your new favorite Prep + Prime Fix + shimmer versions launch? Same as every beauty launch, if it's already launched overseas, you can expect it to hit stateside real soon. Six days ago, Mac Cosmetics in the UK took to their Instagram to announce that the makeup mist was already available for purchase. They posted, "Achieve a superhero glow all over with our Fix + Shimmer Sprays! The Fix+ you know and love that improves the wear of makeup up to 12 hours, now infused with pearlescent particles. Have you tried it yet? Available now! #MACStrobe."
As it turns out, the new shimmer spritz is already available on on Mac's website but will also be available in stores on April 12. If you're the type of person that needs to see and feel products in person before you commit to a purchase (I don't blame you), you can visit your local store in just two days. But I suggest getting there early, because I doubt these babies will be in stock for very long.