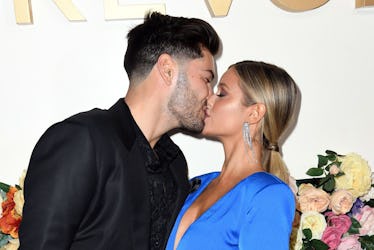 Hannah Godwin & Dylan Barbour Aren't Rushing Wedding Plans For A Legit Reason
Jon Kopaloff/Getty Images Entertainment/Getty Images
Bachelor in Paradise fans, hang tight because it doesn't look like Hannah Godwin and Dylan Barbour are getting married any time soon. "So, the wedding planning journey I put to a little bit of a pause just with COVID and everything," Godwin told Us Weekly on Oct. 6. "And we're trying to wait to see what the state of the world is going to be in the next year or two. So, for now, I'm Pinterest boarding it and saving photos and we're talking about it and getting excited about it. But I think that'll just make it even more special when we're able to actually have our big fun day."
Luckily, Godwin and Barbour don't have to worry about changing any plans made before the pandemic hit. But she majorly feels for couples who had to reschedule their special day.
"Even venue looking, everything's been booked back, everything gets pushed back," she said. "So, it's been a little interesting, but you know what? I really feel for all of the brides and everything who literally had a wedding date in mind and had to push it back. That just sucks. So, I'm glad we're at least still in the fiancé phase and figuring everything out and hopefully, once we start planning then it'll be exciting."
Godwin doesn't seem too upset about having to extend their engagement. She explained, "I think we are just loving being engaged and, I mean, we definitely want to make the next step and we're ready, but I don't think we're rushing into it too much for now."
While they're not making any nuptial plans quite yet, the two are in the process of getting their first home together. "So, we definitely have our eye on a certain place and we're still kind of waiting to see if everything goes through, but if it does then hopefully in the next few weeks we'll be having a home here in San Diego," she revealed. "I'm so excited and I'm excited to have room for all of my shoes and my clothes."
Excited for them!