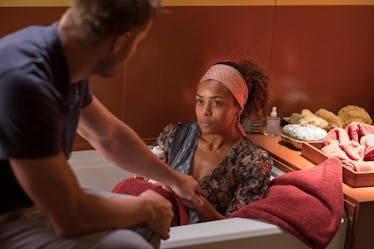 Zoe's Secret Will Be Revealed On 'This Is Us' Soon, So Hang In There
Ron Batzdorff/NBC
The Nov. 13 episode of This Is Us entwined the early love story of Jack and Rebecca with that of Kevin and Zoe, who have previously dealt with many a new relationship cliche. Their journey to Vietnam to trace Jack's past finally moved them past that stage as Zoe revealed a crucial aspect of her own past. Fans now know that she's a sexual abuse survivor, but Beth's cousin could be hiding more about her life. What's Zoe's secret on This Is Us? Actress Melanie Liburd dropped some hints about what the rest of Season 3 may entail for the character.
The budding couple's trip kicked off with more of Zoe (Liburd)'s guarded tones, beginning when she spilled that her dad lived in China and she didn't want him to know she was nearby. Kevin (Justin Hartley) waited until Zoe was weak with food poisoning to confess he was falling in love with her, but he didn't want to keep their personal histories from each other as his parents did. His wish prompted Zoe to share the truth about her father abusing her. While we can assume that these incidents were what brought Zoe to live with Beth's family, Liburd teased in a Variety interview that we'll soon learn more about Zoe's life-altering moments, saying:
We haven't done [Beth's backstory episode] yet, but I'm really looking forward to it. It's coming up, it's 313... [In it, I hope to learn] what [Zoe] loves. I would love to see what made her happy as a child, rather than have it be so clouded by what happened to her — what made her laugh, and her relationship with Beth, and how she learned to trust people again after being left by her mother in Beth's house.
I admittedly have my fingers crossed for plenty of focus on Beth and Randall's first meeting in this particular episode, but a young Zoe being around during their early years as a couple is even better.
While Zoe's biggest secret seems to be out in the open, Beth (Susan Kelechi Watson) has previously warned Kevin about how her cousin tends to make a quick escape when dating turns serious. The episode "Sometimes" seemingly implied that Zoe has matured enough to realize that Kevin is worth the step into vulnerable territory, and Liburd emphasized that, telling Variety:
She's inspiring him to travel and really ask questions and find out about his father — because he was always so worried as a child and didn't ask the questions. She just understands and pushes him to do that and encourages him to do that, and he encourages her to open up and face her fears, which I think is really great. It's a very adult relationship.
After Kevin rapidly went through girlfriends and ex-wives during the first two seasons (Sloane and Olivia who?), it looks like he's getting the epic love story Pearsons tend to earn. The promo for Nov. 20's Thanksgiving-themed episode also seems to suggest he and Zoe are still in Vietnam for the holiday, so here's to their romantic Thanksgiving abroad together. Let's hope Zoe stays away from bat during the big holiday feast.
Season 3 of This Is Us continues on Tuesday, Nov. 20, at 9 p.m. ET on NBC.