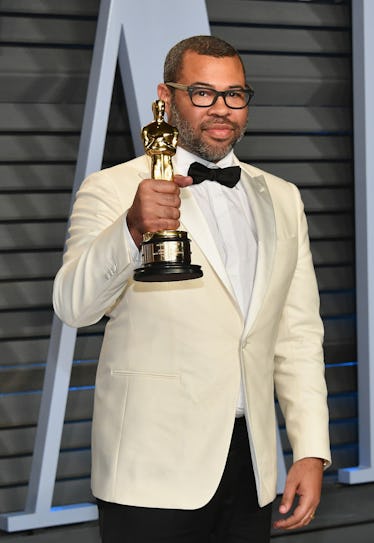 Jordan Peele Tweeted The Poster For His 'Get Out' Follow-Up & Fans Are Already Theorizing
Dia Dipasupil/Getty Images Entertainment/Getty Images
Jordan Peele's thought-provoking horror hit Get Out was undoubtedly one of the most talked-about and critically acclaimed films of 2017. Following the feature's success, audiences were on the edge of their seats wondering what Jordan, the comedic mind behind Jordan & Peele and The Last O.G., would create next. Behold, the talented writer and director's new project. Much to his followers' excitement, Peele tweeted out a poster on Tuesday for his latest film Us, which will be released next year. So, what is Us about? The poster reveals it will be a "new nightmare."
The upcoming movie's plot still remains somewhat of a mystery, although it's being reported by The Hollywood Reporter that it will focus "on two couples, one white, one black." The acclaimed cast reportedly attached to the movie is already very promising. Emmy-winning The Handmaid's Tale star Elisabeth Moss is apparently in talks to portray one half of a couple and Academy Award winner Lupita Nyong'o is in negotiations as well. Winston Duke, Nyong'o's Black Panther co-star, is being considered for the role of her partner. Universal describes Us as "another original and provocative thriller" and the movie is slated to hit theaters March 15, 2019.
Jordan Peele has proven himself as a profoundly creative force in Hollywood thanks to Get Out's impact and his versatile resume in film and TV. Get Out was not only a runaway winner at the box office, the film garnered four Academy Award nominations and countless other award nods. Peele made Oscar history in March when he became the first black screenwriter to win the award for best original screenplay.
In February, Peele told The Hollywood Reporter that he was penning a new script for Universal — presumably Us — that he planned on shooting this year. He teased how the project will both relate and diverge from Get Out, saying,
One thing I know is that this is genre; and playing around with the thriller, horror, action, fun genre of intrigue is my favorite. That's my sweet spot. So I think tonally it should resemble Get Out. That said, I want to make a completely different movie. I want to address something different than race in the next one.
And Get Out and the forthcoming Us could be just the start of a string of mind-bending horror films from the writer-director-producer. Prior to Get Out's release, Peele disclosed to Business Insider that he has "four other social thrillers" that he hopes "to unveil in the next decade." He explained,
The best and scariest monsters in the world are human beings and what we are capable of especially when we get together. I've been working on these premises about these different social demons, these innately human monsters that are woven into the fabric of how we think and how we interact, and each one of my movies is going to be about a different one of these social demons.
In addition to his cinematic ventures, Peele is currently producing HBO's horror-drama adaptation Lovecraft Country. He is also the co-creator of TBS's Tracy Morgan and Tiffany Haddish series, The Last O.G., which is currently airing its first season and has already been renewed for a second.
Get Out's concept may have taken eight years to get off the ground, but now the door is open for Peele to make the kind of innovative films he always wanted to give life to.
"I've been spending the first half of my career focusing on comedy but my goal, in all honesty, is to write and direct horror movies," he told Playboy back in 2015. Jordan Peele has achieved that goal and then some, and it's clear fans can't wait to see his next piece of work on the big screen.