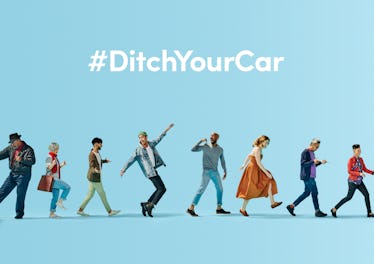 Lyft Wants You To Ditch Your Car For An Entire Month, But It's For A Good Cause
Courtesy of Lyft
I lived in New York City for quite a few years, and I never owned a car there. Why? Because public transportation is convenient AF. Let's be real: Whether you're living in The Big Apple or any other highly-populated area, it's tough to own a vehicle. Not only is parking a constant challenge, but there's also an influx of traffic and excessive carbon emissions. In my opinion, it's not worth it. Apparently, Lyft agrees — because the company is challenging folks in certain U.S. cities to totally ditch their wheels for 30 days. If you're curious about the company's incentive, you might be wondering what Lyft's #DitchYourCar challenge is. But once you learn more about it, you'll be happy to set your keys down for a month.
Lyft's Ditch Your Car program comes in light of the company's effort to create a sustainable environment with less vehicles on the road. In order to make it happen, Lyft is challenging drivers to give up their cars from Oct. 8, 2018 to Nov. 6, 2018 — but don't worry, they won't be stranded. Those who are chosen for the challenge will receive a month's worth of transportation credits that they can use in their city — but the value of those credits will depend on where the participants live.
For example, Lyft will offer New York City challengers $445 in transportation credits, while those in Philadelphia will get $545. Los Angeles folks, on the other hand, will get a whopping total of $677 in credits. TBH, it all depends on how much transportation costs in each city. To figure out what Lyft would offer in your area, explore the dropdown menu on the company's #DitchYourCar website.
Regardless of how many credits you receive, you'll surely be able to get around for one month without a car — and that's exciting! John Zimmer, Co-Founder and President of Lyft, is also stoked about the challenge. He talked about it in a press release, and said, "We are on the brink of a massive shift in personal transportation, moving away from ownership and into transportation as a service. Ditch Your Car is an extension of the mission we've been committed to for over a decade."
If you're on board with the sustainable lifestyle that Lyft is promoting, go ahead and apply to be a part of the challenge. In order to do so, head to Lyft's #DitchYourCar website and enter. You have until 11:59 p.m. ET on Sept. 30, 2018 to submit your information, so don't wait too long. According to Lyft, challenge participants will be randomly selected for each city — so cross your fingers and hope for the best.
If you're selected by Lyft, you'll receive an email with additional details about the #DitchYourCar challenge. The email will also include your highly-anticipated transportation credits. Once you're all set with those, go ahead and park your car — because starting on Oct. 8, you won't be needing it for an entire month.
Once you're done with the challenge, you'll be proud of yourself for taking a huge step toward a sustainable future.