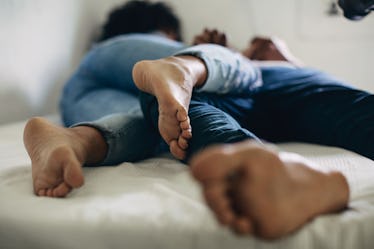 The Best Mattress For Sex Depends On You, So Here's What To Consider
Having a satisfying sex life is definitely something to aspire to, but also something that can take work. It takes finding the right partner, figuring out what you both enjoy in the bedroom, and real effort to keep things fresh and exciting. There are several factors to consider: positions, time of day, location, and so much more, but one underrated key player is the literal foundation of a great sex life. No, it's not your emotional connection or your communication skills (although those are very important factors!) It's your mattress. So, what's the best type of mattress for sex? Needless to say, you have options.
Having the right mattress for sexy times may be more important than you think. That's because the mattress you and bae use can impact which sex positions are more easily achievable, not to mention how much effort it takes to actually have sex. Does your mattress offer some helpful bounce? Or is it absorbing all that energy? As Nagma V. Clark, certified sex therapist and couples' counselor, told Insider Living, mattress bounce is a really essential factor to consider when it comes to sex.
"The extra bounce helps in changing positions effortlessly while at the same time providing support. Also, the bouncing back effect greatly helps in keeping the rhythm going because sex is like dancing — it needs rhythm and coordination," she explained. Other things she says to consider are the durability of the mattress, how much noise it makes, and, of course, the softness. One more factor to add is how much heat it retains, because sure, you want the sex to be hot, but not the mattress you're trying to sleep on afterwards.
So, with all that in mind, what kind of mattress is optimal for sex? Let's break the pros and cons down by type.