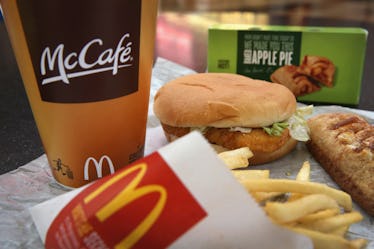 McDonald's New Dollar Menu Is Full Of Options That'll Make Your Mouth Water
Scott Olson/Getty Images News/Getty Images
It was a sad, sad day for everyone when McDonalds' Dollar Menu officially shut down at the end of 2013. Fond visions of dollar McDouble cheeseburgers, 4-piece nuggs, and fries played in my head like an old love story. It was truly "the day the music died." Then, this past summer, McDonalds announced that they were bringing back their Dollar Menu, and I can now accept that true love does exist. But since the Dollar Menu is coming back from the dead, I think we're all wondering: What's on the new McDonald's Dollar Menu? I can already smell those crunchy, enticing dollar nuggets, because everything tastes better when it's only a dollar.
According to a press release, McDonalds' revived Dollar Menu is officially making its big come back on Jan. 4 in all of its glory. It is, however, more than just a dollar menu. In fact, it's officially called the $1-$2-$3 Menu, showcasing a few favorite less expensive menu items while even bringing back a few oldies.
The dollar section will feature the basics, such as the Sausage Burrito, Cheeseburger, McChicken Sandwich, and any-size soda. The $2 options become slightly more sophisticated, including the Sausage McGriddles, 2-piece Buttermilk Crispy Tenders, (which, thank the grease gods, have finally made a comeback after a short sabbatical), Bacon McDouble, and any small McCafé beverage. Finally, the $3 section gets a little bit fancy. The revered $3 menu will include the Sausage McMuffin with Egg, Triple Cheeseburger, Classic Chicken Sandwich, and of course, the forever-beloved Happy Meal. According to McDonalds, this will be the very first time McDonald's has ever included the Happy Meal on any of their value menus.
The Classic Chicken Sandwich, which is set to be in the $3 section of McDonalds' $1-$2-$3 Menu, is one of their completely new items. According to McDonalds, the recently developed sandwich will include a crunchy buttermilk chicken filet made with all white meat on a toasted bun. It will be topped with a handful of sandwich pickles, and a dollop of the new creamy-yet-tangy "Signature Sauce." My fried chicken senses are quite literally tingling.
Chris Kempczinski, president of McDonalds U.S.A., anticipates immense satisfaction from Mickey-D fans. He is beyond excited to release new items, such as the Classic Chicken Sandwich, and to add old, familiar items to its value menu, such as the Buttermilk Crispy Tenders. Kempczinski said in a statement:
We built this new menu with variety and value firmly in mind. Our new value menu includes surprises like our completely new Classic Chicken sandwich, the inclusion of our Happy Meal and more. Whatever our guests crave – a delicious meal, a new taste, a mid-day snack or a family treat – they will find that $1 $2 $3 Dollar Menu provides them with value and choice.
While the recently announced $1-$2-$3 Menu items are, in fact, gloriously delicious, you may have been shocked (like myself) to discover that there aren't any french fries on the chain's newest value menu. Qu'est-ce que c'est?!
Chicago Tribune seemed to have actually been wondering the same thing, to which Kempczinski reportedly responded, "We didn't need fries to make it attractive." The new value menu was clearly captivating enough without fries, and they pretty much figured that anyone with basic human instincts will probably just order a side of fries anyways. They aren't wrong.
Although we're only about a month away from the grand debut, the $1-$2-$3 Menu seriously could not come sooner; my body is so ready. But, when our wallets are feeling a little empty after the holiday season, the new value menu will be waiting for us.
Check out the entire Gen Why series and other videos on Facebook and the Bustle app across Apple TV, Roku, and Amazon Fire TV.