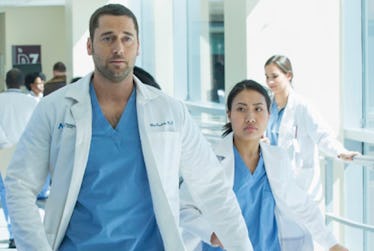 NBC Has A New Medical Show On The Way & It's Not Your Typical Doctor Drama
NBC / Francisco Roman
I still have my fingers crossed for some of my go-to TV shows to get renewed for another season, but NBC is toying with my emotions and announcing new upcoming shows instead. Such is show biz, right? Confirming its first official series pickup of the upcoming TV season, NBC will soon debut a new medical drama, New Amsterdam, but pause before you start groaning about yet another series of hot doctors chasing away death on TV. The new show has a slight twist that sets it apart from similar concepts, so what's New Amsterdam about?
Deadline reports that the medical drama originates from the story of New York City's Bellevue, the oldest public hospital in America. The series introduces a Bellevue-like hospital's newest director, Dr. Max Goodwin, who wants to reshape the way that the organization is run. The show's full description says:
Inspired by Bellevue, the oldest public hospital in America, this unique medical drama follows the brilliant and charming Dr. Max Goodwin, the institution's newest medical director who sets out to tear up the bureaucracy and provide exceptional care. How can he help? Well, the doctors and staff have heard this before. Not taking "no" for an answer, Dr. Goodwin must disrupt the status quo and prove he will stop at nothing to breathe new life into this understaffed, underfunded and underappreciated hospital — the only one in the world capable of treating Ebola patients, prisoners from Rikers and the President of the United States under one roof — and return it to the glory that put it on the map.
Played by 90210 and The Blacklist star Ryan Eggold, Max being in a position of authority at the start of the series is definitely a first for a medical show on a major network. How many medical shows didn't start off with its main characters being interns or new residents at a hospital? If you've put your Hulu account to good use the past few months, you may know that ER first introduced characters at different professional levels, but New Amsterdam seems it'll specifically tackle someone using their high position to start significant change.
According to Entertainment Weekly, the series is also inspired by Dr. Eric Manheimer's memoir, Twelve Patients: Life & Death at Bellevue Hospital. Manheimer, who will work as a producer on New Amsterdam, also served as Bellevue's medical director, eventually becoming a patient there when he was diagnosed with cancer. I'd wager that the show's creative team will save a surprise cancer diagnosis for a second season, but Manheimer's true experiences are definitely wise to keep in mind when the show premieres.
Joining Eggold in the cast are former Doctor Who star Freema Agyeman, The Big Sick's Anupam Kher, Janet Montgomery, Jocko Sims, and Tyler Labine. Another great sign of a show's potential is it having actors who are relatively unknown to mainstream audiences. After all, how many Grey's Anatomy cast members did you know of before the show premiered?
It's unclear when the new series will exactly air on NBC, but as Deadline points out, networks typically pick up shows they want for fall premieres first. Fans of NBC's other medical shows, Chicago Med and The Night Shift, shouldn't be too worried about this new guy in town either. The latter has never had a full TV season, suggesting that its scheduling wouldn't interfere with New Amsterdam, while Chicago Med is doing well thanks to usually airing immediately after This Is Us this past year. If you've already been crying about Jack Pearson, why not keep out your tissues for dramatic medical surgeries, right?
New Amsterdam will premiere on NBC during the 2018-19 TV season.