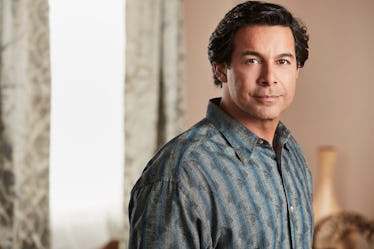 'This Is Us' Producers Promise Fans They're Going To "Frickin' Love Miguel"
Maarten de Boer/NBC
We know. We know. Everyone loves Jack Pearson. He's a great dad, he has a sweet mustache (we'll forgive that later goatee), and he's played by Milo Ventimiglia. Even Rebecca's glowing review noted he was "pretty damn close" to perfect. But what about Miguel? Her second husband has an unwarranted bad reputation with fans considering he, I don't know, has to play the unfortunate role or Mr. Steal Your Girl to #TeamJack devotees everywhere. What is Miguel's backstory on This Is Us? We know a little about the Pearson's friend-turned-family member, and apparently we're going to like what else we see in the future. Get used to it.
Tuesday night's episode of This Is Us, "The 20's," gave audiences some much-needed insight into how Rebecca and Miguel reunited and sparked their eventual relationship. And if you ask us, it was pretty darn adorable and made our tummies fill up with fluttery heart-shaped butterflies for Rebecca, who was clearly going through a hard juncture in her life. Yes, we were taken back to 2008 to get a glimpse of that time Miguel decided to slide into her DMs and casually check in through Facebook, as many people do. It was the beginning of a new chapter for Rebecca and ultimately, the entire Pearson family.
2008: Katy Perry kissed a girl and she liked it. Tina Fey's Sarah Palin could see Russia from her house. Kate Pearson was a waitress sleeping with a married man. Kevin was just another struggling actor in La La Land. Randall was a new dad. And from what we could tell, Rebecca was living on her own, about to join a somewhat new social media platform. She explained to Beth that her friends were urging her to sign up to see baby photos, but mentioned it was also a "good way to stay connected and feel part of a community." Little did she know it would lead her to Miguel. Ah, Miguel. One of the most polarizing characters on This Is Us.
Executive Producer John Requa feels Miguel is treated "unfairly" by viewers, since Jack remains on a pedestal. But fear not. You're going warm up to this guy someday. "If there's one thing I know about Dan and the writing staff, you're going to frickin' love Miguel when it's all said and done. Because Rebecca wouldn't just settle — you know there's a good reason," Requa revealed to The Wrap.
And seriously, what's so wrong about swooping in exactly when an old companion needs you the most? It appears that Miguel was in the right cyber space at the right time. If it makes Rebecca happy, there's a big part of us that can't be mad at this situation. Mandy Moore even touched on her character's mindset at that point in time. She explained to EW,
She still lives in Pittsburgh, she's by herself, she's obviously in some small apartment or condo by herself, she doesn't have grandkids, she probably doesn't have a ton on her plate. I feel for her. It really weighed on me. And that scene with Beth when she's like, 'I keep hearing about something called Facebook and how it would help me see pictures and feel connected to the world around me and my friends' — oooh, it broke my heart to say those lines, because I could feel that loneliness.
Aww. Miguel was like her Knight in Facebook Armor. Nobody can ever replace Jack, but he's obviously a necessary emotional force. But what are the key things to know about Miguel? Of course, he was basically BFFs with Jack and the couple for many years. He has children with his ex-wife Shelly. He and Rebecca lost touch following Jack's death and he apparently moved to Houston. He's a fan of corny sitcoms like The Manny. He appreciates a good Pig in a Blanket, a la Toby. And he shared a deeply moving scene with Kevin last season that endeared us to him further.
Jon Huertas, who plays Miguel, also assured skeptics that his character was not playing some sort of twisted long game when it came to his future wife. When The Hollywood Reporter asked if he acts flashback scenes as if Rebecca is an object of affection he said, "Miguel has never had feelings for Rebecca in that way in the past. Miguel is not jealous or envious of Jack having Rebecca, he's envious of what they have because he doesn't have that with Shelly. He loves Jack more than anyone." Can you sleep better knowing that?
We look forward to seeing #MiBecca's (or #Reguel, whatever) courtship blossom and we'll take the producers' word for it. We'll find room in our Pearson-dedicated hearts to love another character.