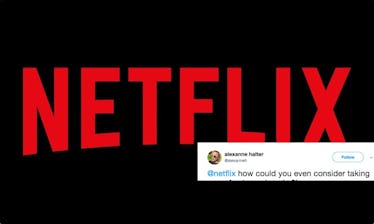 Don't Freak Out, But One Of Your Favorite Shows Is Leaving Netflix In October
My lazy Saturday nights are about to get a whole lot less enjoyable because, much to the dismay of fellow fans, a certain cult fave TV show from the late '90s is getting ripped from the Netflix roster next month. Season 1 of the beloved short-lived comedy Freaks and Geeks will no longer be available on the streaming service. You know why that's extra terrible? Because there's ONLY ONE SEASON. What's leaving Netflix in October? Prepare to say goodbye to a handful of movies and TV shows that might be on your re-watch rotation.
Paul Feig's (Bridesmaids, A Simple Favor) Freaks and Geeks helped launch the careers of performers like Seth Rogen, Jason Segel and Busy Philipps. Philipps actually took to Instagram on Sept. 24 to commemorate the the 19th anniversary of show's premiere by sharing on-set photos of her and the young cast. The series wasn't a ratings success for NBC and got the boot after its first season, but enjoyed a healthy cult following over the last two decades thanks to re-runs and services like Netflix. Unfortunately, it's run on the streaming service has come to an end, which pretty much ruined every fan's day. If you were a hopeful viewer who had dreams of binging Freaks and Geeks, there are only a few days left to do so via Netflix. I suggest you plan on making that epic afternoon happen pronto.
Freaks and Geeks is just one of the many titles that you might want to send off with a viewing soon. Time is running out for classics like Bad Boys, Boogie Nights, Donnie Darko, and Trading Places. The Rugrats Movie, Adventureland, The BFG, The Secret Life of Pets, and Bridget Jones's Baby also have expiration dates. White Collar's six seasons will disappear on Oct. 1 and 90210 (the CW reboot) is set to depart on Oct. 8. Horror flicks Scream 2, Curse of Chucky, The Babadook sadly won't make it to Halloween. I think I now know what I'll be doing this weekend.
Check out the full list of titles leaving Netflix in October below:
Leaving Oct. 1
21
Adventureland
Akira
Bad Boys
Boogie Nights
Cinderella Man
Curse of Chucky
Eyes Wide Shut
Freaks and Geeks: Season 1
Full Metal Jacket
Guess Who
Inside Man
Let Me In
Life Is Beautiful
Menace II Society
Red Dragon
Scream 2
Sin City
Stealth
The Adventures of Tintin
The Clan
The Family Man
The Human Centipede 2: Full Sequence
The Lost Boys
The Rugrats Movie
Trading Places
White Collar: Seasons 1-6
Leaving Oct. 2
The Human Centipede: First Sequence
Leaving Oct. 6
The BFG
Leaving Oct. 8
90210: Seasons 1-5
Kubo and the Two Strings
Leaving Oct. 10
Leap Year
Leaving Oct. 13
The Nut Job
Leaving Oct. 14
About a Boy: Seasons 1-2
The Babadook
Leaving Oct. 17
Donnie Darko
Leaving Oct. 22
The Secret Life of Pets
Leaving Oct. 24
V/H/S/2
Leaving Oct. 25
Big Eyes
Queen of Katwe
Leaving Oct. 26
Southside with You
Leaving Oct. 28
Bridget Jones's Baby