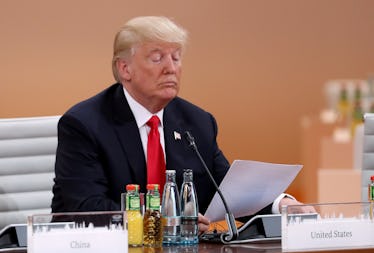 Trump's "New NAFTA" Agreement Has A New Name, But Here's What It Actually Does
Sean Gallup/Getty Images News/Getty Images
On Friday, Nov. 30, President Donald Trump and his fellow leaders joined together to sign what amounts to a new version of the North American Free Trade Agreement (NAFTA). The new trilateral agreement makes some changes to the auto industry in particular, but doesn't eliminate some of the hardest-felt tariffs that Trump has placed on his global trade partners. Here's what's in the new NAFTA deal.
The deal, like its 1994 predecessor the North American Free Trade Agreement (NAFTA), establishes a free trade zone between the three North American countries, which in theory lowers the barriers to trade between them, such as tariffs, and in turn translates to lower costs for consumers on a variety of goods. The new agreement reportedly opens up access to the Canadian and Mexican markets for U.S. dairy farmers, per an analysis by The New York Times, but the biggest changes come to the auto industry. Under the new rules, automakers must increase the percentage of North American-made parts up to 75 percent, and 30 percent of a vehicle's manufacture must be done by workers paid at least a $16 minimum wage. But per The Washington Post, skeptics worry that these provisions, meant to align with Trump's made-in-America promise, will mean increased manufacturing costs will be passed onto consumers and as a result, fewer will be willing to buy them.
The news of a new deal, particularly with respect to its changes to the auto industry, comes amid a tumultuous week for economists after General Motors announced it was closing plants in the U.S. and Canada, putting a damper on Trump's boasts of an economic steam train, especially in Rust Belt regions that rely heavily on the auto manufacturing industry.
Though the text of the agreement was sealed back in October, Trump, Canadian Prime Minister Justin Trudeau, and outgoing Mexican President Enrique Peña Nieto took the next step by signing it together while at the G20 global economic summit in Buenos Aires, Argentina.
"Just signed one of the most important, and largest, Trade Deals in U.S. and World History," Trump tweeted Friday. "The United States, Mexico and Canada worked so well together in crafting this great document. The terrible NAFTA will soon be gone. The USMCA will be fantastic for all!"
Getting the agreement this far was a hard-won battle for Trump, who faced some difficulties in getting Mexico and Canada on board and has had a strained relationship with his trade partners since taking office. Trump campaigned for president on a promise of putting "America First" and walking the U.S. back to more protectionist and isolationist approaches to global trade, and since taking office has been doing just that by exiting key international agreements including the original NAFTA. Per the CBC, Canada was less than excited about signing onto the new deal, and "made it clear they didn't want to celebrate the end of a year of U.S. attempts to twist Canada's arm with the tariffs still in place." In fact, Trump had threatened to essentially leave Canada out of the deal altogether and pursue a separate U.S.-Mexico agreement. It was also critical that Trump get the agreement signed at this summit before his counterpart Peña Nieto leaves office; his successor, Andrés Manual López Obrador, takes office on Saturday. Though "AMLO," as the incoming Mexican president is nicknamed, appears to have come around on the new agreement, AMLO will be charged with the task of shepherding the agreement through in the coming year.
The agreement is a diplomatic victory for Trump, but a very tentative one at that. Despite Trump's touting victory on Twitter, it's hardly a done deal, and it's probably too early to bust out the champagne for a few reasons.
First, the deal doesn't end the steel and aluminum tariffs it had set up against Mexico, Canada, and the European Union, which took effect in June and sparked retaliatory measures against the United States. The U.S. tariffs have been said to hurt U.S. automakers, which rely on the goods for production. And per ABC, the new deal won't prevent GM from outsourcing jobs to Mexico.
"Make no mistake, we will stand up for our workers and fight for their families and their communities," Trudeau said Friday about the tariffs. "And Donald, it's all the more reason why we need to keep working to remove the tariffs on steel and aluminum between our two countries."
Second, critics are already shrugging the agreement off as mostly a photo-op with little substantive change behind it. Some economic experts think that the deal is less of an overhaul and more of a modest update; in fact, while Trump insists on calling it the United States-Mexico-Canada Agreement (USMCA), Trudeau has been calling it a "new NAFTA," a mere modernization of the original deal.
"If you really believe that NAFTA was the worst trade deal in American history, you can't reconcile yourself to say that this new USMCA is a very good deal or represents a breakthrough," economist Gary Hufbauer told ABC in a story published Friday. He added that about 90 percent of the original NAFTA agreement has stayed the same in this new version. Others on Twitter called the deal "a nothing burger" and criticized Trump for accomplishing nothing more than a name change.
Finally, the agreement still has another three-part hurdle to clear. Now that all three leaders have signed it, it will now need to go before the three countries' respective legislatures to ratify it before it goes into effect, which likely won't be until January 2020, per ABC. Given Trump's bullying tactics to get Mexico and Canada on board, and Trudeau's clear reservations about it, the road to passage there is anything but certain. And it's the same story back home: with Democrats in power in the new House next year, it's likely to face pushback and revisions before it would be approved.
Importantly, 2020 is also a U.S. presidential election year, and Trump has historically campaigned for himself largely on the strength of the economy. In other words? The pressure is on.