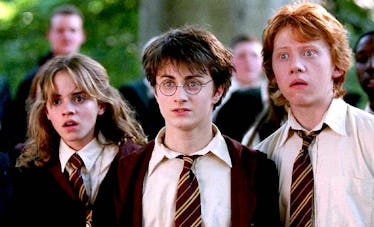 Peacock's October Streaming Lineup Includes 'Harry Potter' & 'Parks & Rec'
Warner Bros.
NBC's Peacock streaming service technically soft-launched on April 15 for anyone with Comcast. But the full release to most households came in July and widened further still in September when the app finally arrived on Roku. With a reported 15 million users signed up by mid-September, the streaming service has officially arrived as part of the gaggle of apps available to viewers to choose from. So, what's coming to NBC's Peacock in October? There's a bunch of family favorites on the way.
Peacock is a little different than its competitors. Unlike Apple and Disney, it's not emphasizing new shows as much as it is its library of older content. There's a good reason for that: NBC offers its older stuff to anyone who signs up for free. While some will still opt for the paid tier (and probably many more will do so when the Olympics arrive in 2021), much of Peacock's library treats its content the same way it did when it was NBC over-the-air broadcast for decades: free with commercials. It also has "Genre Channels" which stream nothing but certain franchises of programming (think The Law & Order Channel).
TV lovers are going to be pumped for what's showing up come Oct. 1. First up, for the fans of Lesley Knope, there's every season of Parks & Recreation. For sketch-comedy aficionados, there are all 45 seasons of Saturday Night Live. And then there's the Harry Potter film franchise, which exited HBO Max at the end of August; after the appropriate waiting period, it's now on NBC's Peacock and will stay there through the month's end. In addition to all this, there's also a ton of Halloween titles, including some classic selections from the Alfred Hitchcock library.
Here's the full list of arrivals:
Oct. 1
Abbott & Costello: Dr. Jekyll & Mr. Hyde
Abbott & Costello: Frankenstein
Abbott & Costello: Invisible Man
Abbott & Costello: Mummy
Alfred Hitchcock Hour
Alfred Hitchcock Presents
American Psycho
The Amityville Haunting
Anna
Annelise: The Exorcist
Apocalypto
A Beautiful Mind
The Bell Witch Haunting
The Birds
The Blues Brothers
The Boy Next Door
Bride of Frankenstein
Captivity
Charmed Season 1-8
Cold Case Files Season 1-6
Cooties
Creature From the Black Lagoon
The Crush
The Curse of the Werewolf
Darkman
Dawn of the Dead
Dracula
Down A Dark Hall
The Elvira Movie Macabre Library
E.T.
The Exorcist III
Eureka Season 1-5
Family Plot
Fast & Furious
The Fast and The Furious: Tokyo Drift
Fear
Firestarter: Rekindled
The First 48 Season 1-19
For A Good Time, Call…
Forensic Files
Frankenstein
Frankenstein Meets Wolfman
Frenzy
Get Him to The Greek
Ghost Hunters International Season 1-3
The Ghost and Mr. Chicken
The Grudge
Hard Candy
Harry Potter & The Philosopher's Stone
Harry Potter & The Chamber of Secrets
Harry Potter & The Prisoner of Azkaban
Harry Potter & The Goblet of Fire
Harry Potter & The Order of the Phoenix
Harry Potter & The Half-Blood Prince
Harry Potter & The Deathly Hallows Part 1
Harry Potter & The Deathly Hallows Part 2
The Haunting in Connecticut
Hellboy II: The Golden Army
Hollowman
Horsemen
The Invisible Man
It Follows
Jigsaw
King Kong
Knock Knock
Leatherface
The Little Ghost
The Lonely Guy
Mama
The Man Who Knew Too Much
Marnie
Matinee
Miss Congeniality
Monster House
Monster High: Fri Night Frights
Monster High: Ghouls Rule
Monster High: Boo York
Monster High: Haunted
Monster High: Freaky Fusion
Monster High: Why Ghouls Fall in Love?
Monster High: Scaris, City of Frights
Monster High: Great Scarrier Reef
Monster High: Escape from Skull Shores
Monster High: Frights, Camera, Action!
Monster-in-Law
The Munsters
Open Windows
Pac-Man & Ghostly Adventures Season 1-3
Paranormal Witness Season 1-5
Parks and Recreation Season 1-7
Phantom of the Opera
Pitch Black
Play Misty for Me
Prime
Psycho
The Purge
Rear Window
Riddick
R.I.P.D.
R.L. Stine: The Haunting Hours
R.L. Stine: Mostly Ghostly
R.L. Stine: Mostly Ghostly 2
R.L. Stine: Mostly Ghostly 3
R.L. Stine's Monsterville
Rope
Saboteur
Sabrina the Teenage Witch
Sacred Lies
San Andreas
Saturday Night Live Season 1-45
Shadow of a Doubt
Shrek
Sinister
Sleepaway Camp
Smokin' Aces
Spine Chilling Stories Season 1-2
So Shook Season 1
Tale of Despereaux
Terminator 3: Rise of the Machines
Terminator Salvation
Topaz
Torn Curtain
The Trouble With Harry
Tyler Perry's Boo 2!
Unsolved Mysteries Season 1-9
Vertigo
Warehouse 13 Season 1-5
The Wedding Date
The Wilding
You, Me and Dupree
You Should Have Left
Zombieland
Oct. 3
2020 French Open Third Round
Oct. 4
2020 French Open Fourth Round
Saturday Night Live Season 46 (NBC Premiere)
Oct. 5
2020 French Open Coverage
Oct. 7
Ellen's Game of Games Season 4 (NBC Premiere)
Oct 8
Code 404 (Peacock Original)
Oct. 9
Connecting (NBC Premiere)
Hell's Kitchen Season 18
Keeping Up With the Kardashians Season 18
Oct. 14
El Domo De Dinero (Telemundo Premiere)
Oct. 15
Billboard Music Awards 2020
Curse of Chucky
Freedia Got a Gun (Peacock Original Documentary)
La Casa De Al Lado
Mr. Mercedes Season 1-2 (Peacock Exclusive)
Oct. 16
The Fall Season 1-3
The Purge Season 2
Oct. 21
Madagascar A Little Wild: Halloween
Oct. 23
The Way I See It (Peacock Original Documentary)
Oct. 28
This Is Us Season 5 (NBC Premiere)
Oct. 30
Superstore Season 6 (NBC Premiere)
New Peacock Genre Channels
Oct. 1
Oct. 21
The Rotten Tomatoes Channel
Oct. 28
This article was originally published on