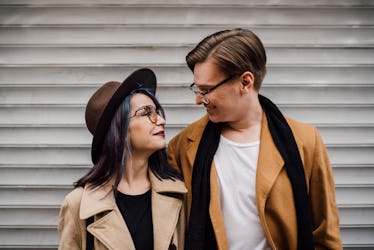 7 Qualities You Want Your Sister's Soulmate To Have, Because She's Your World
You and your sister have probably been plotting your happily ever afters since you were little kids. By now, you've strayed away from the enchanting magic carpet rides, sparkling pumpkin coaches, and beautifully-misplaced glass slippers. You've moved onto peeping what really makes a person "the one" who you'll spend your life with. Your sister has clued you in on what she's liked and didn't like about partners in the past. Needless to say, what you look for in your sister's soulmate is really quite clear — because your opinion is so important.
You know that your sister deserves the whole world. As extremely demanding as that may sound, her soulmate means everything to her. Soulmates are people who leave an everlasting impact on us. You don't grow up knowing exactly who your soulmate is, but once you find them, you'll never be the same (in a good way).
Your sister's forever person is just as important to you as they are to her. You'll be entrusting them with your sister's heart — the heart that you've likely help mend in the past. Your approval of your sister's soulmate shouldn't be taken lightly. So, you know that these key qualities would reassure you that this person could, in fact, be her forever person, IRL.