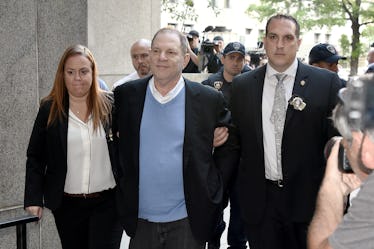 Harvey Weinstein Was Finally Arrested & He Has A Long List Of Allegations Against Him
Steven Ferdman/Getty Images News/Getty Images
Seven months after allegations of sexual assault from over a dozen women against Harvey Weinstein first hit the pages of The New York Times and The New Yorker, the film producer turned himself into police in Manhattan on Friday, May 25 (he has repeatedly denied these allegations). The Times and The New Yorker''s reporting in October was followed by scores of other women with allegations against the 66-year-old, once considered a Hollywood icon, but his arrest on Friday was pertinent to cases involving two women in particular. Now that the producer was formally placed in handcuffs, attention turns to a new question: What exactly was Harvey Weinstein charged with?
Weinstein was charged with first and third degree rape, and a separate charge of a criminal sex act. After the arrest, Weinstein's attorney Benjamin Brafman maintained his client's innocence. Brafman said in a statement,
Mr. Weinstein has always maintained that he has never engaged in non-consensual sexual behavior with anyone. Nothing about today's proceedings changes Mr. Weinstein's position. He has entered a plea of not guilty and fully expects to be exonerated.
The criminal sex act charge stems from an alleged incident in 2004 involving Lucia Evans, who at the time was an aspiring actress, according to the Associated Press. Evans, whose claims against Weinstein were published by The New Yorker, alleged that Weinstein forced her to perform oral sex on him. In a statement to The New Yorker in October, Weinstein's spokesperson said, "Any allegations of non-consensual sex are unequivocally denied by Mr. Weinstein."
"I just sort of gave up," Evans told The New Yorker. "That's the most horrible part of it, and that's why he's been able to do this for so long to so many women: people give up, and then they feel like it's their fault."
The charges of rape relate to a 2013 encounter with an unnamed woman.
During Weinstein's arraignment in Manhattan Criminal Court on Friday, Manhattan assistant attorney Joan Illuzzi-Orbon said, "This defendant used his position, money and power to lure young women into situations where he was able to violate them sexually." Illuzzi-Orbon included that the investigation against Weinstein — conducted jointly by the Manhattan District Attorney's office and New York City police — is still ongoing, per NBC News.
"Mr. Weinstein did not invent the casting couch in Hollywood, and to the extent that there is bad behavior in that industry, that is not what this is about," Brafman, Weinstein's attorney, said during the arraignment.
A day before Weinstein's arrest, federal prosecutors announced that they were launching a federal investigation of the filmmaker, with the U.S. attorney's office for the southern district of New York taking the lead, according to The Wall Street Journal. The federal investigation will focus, in part, on whether Weinstein lured women to travel across state lines to perform sexual acts, according to The Journal.
Local authorities in both London and Los Angeles have also opened investigations of Weinstein. The London investigation, dubbed Operation Kaguyak, was announced in October and is related to allegations of 11 separate women. Meanwhile, the Los Angeles County District Attorney has been reviewing five separate investigations of Weinstein by local authorities, according to The Los Angeles Times.
Weinstein has long maintained that he did not engage in non-consensual sexual acts, both during his court appearance on Friday and in response to the dozens of allegations made against him.
In court, Weinstein's attorney said he intends to move to have the charges against him dismissed. In the meantime, Evans' attorney, who represents the one publicly known accuser pertinent to Friday's charges, appeared to relish the moment.
"This is an emotional moment. We are relieved and grateful that justice is coming, but we also mourn the cases where it didn't," the attorney, Carrie Goldberg, said in a statement, per the Associated Press.
Weinstein was released on bail Friday, after posting a $1 million check and agreeing not to travel outside of New York and Connecticut without permission from authorities.