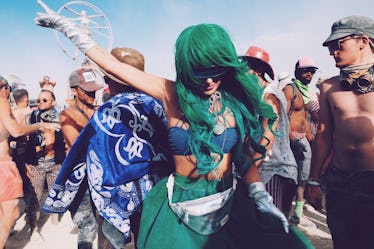 10 Things You Didn't Know You Needed To Pack For Burning Man As A First-Timer
Going to Burning Man requires a lot of time, planning, and dedication. If you're a first-timer, it can be a struggle deciding what to pack. You've likely heard tales of a week in the desert filled with wonder, yet you might not know exactly what this experience will have in store for you, as no one can really describe it. So, how do you meticulously plan and prepare for something you don't know much about? Fear not, because I have created a list of exactly what to pack for Burning Man if you are going for the first time.
These are tips, tricks, and hacks that will allow you to seamlessly transition from reality into the Burn. While costumes, art installations, and means of transportation are all up to the individual, there are things you need to have with you to ensure a smooth week without any regrets. I wish I had this list when I was packing for my first time, as it can become a totally daunting task. If you pack knowing that it gets extremely hot during the day and can get very cold at night, and make sure to bring all the things below, that should be a perfect starting point for your very first Burn.