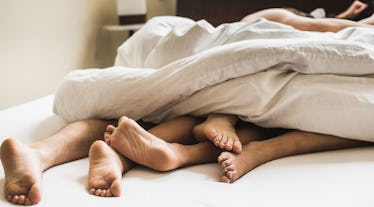 What To Do If Your Partner Wants To Bring A Third Person Into The Bedroom, But You Don't
OK, tell me if this awkward moment sounds painfully familiar: You and your boo are trying to spice things up in the bedroom, so you start talking about fun new ~things~ you'd like to try. Everything is going well and you're getting excited, until they suggest something that, for you, is a hard no. Not to kink shame — because, as long as everyone is consenting, it's all good — but just... not for you. For example, if your partner wants to have a threesome and you're strictly a one-partner-at-a-time kind of girl, how do you say no without making them feel bad?
Not having exactly the same desires as your partner is not uncommon. Threesomes are not for everyone, and that's OK! The key here is just to find common kinky ground where you can both enjoy yourselves. However, if they pressure you, well, that's very different. If you're getting pressure, guilt, or shame from them for not being up for what they want in the bedroom, please remember: You are never, ever, ever, and I mean ever required to do anything that makes you uncomfortable. Period. And while that's just about as black and white as you can get, it can sometimes feel a lot more complicated in practice — particularly if you care about someone. I reached out to experts for their advice on how to handle tricky situations like these. Here's what they had to say.