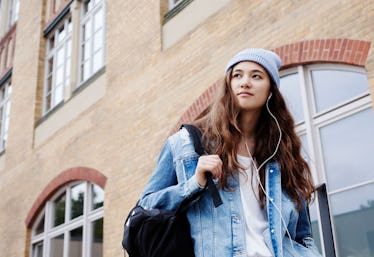 How To Handle Seeing Your Ex At School If You Haven't Spoken All Summer
If you broke up with someone last semester, you might be dreading returning to campus this fall and potentially seeing them again. Knowing what to do if you run into your ex at school is tricky, especially because it's in situations like these when your life tends to play out like a cheesy sitcom. You'll probably end up running into them after 10 p.m. on a Saturday, when you're in sweatpants and a big t-shirt, with a pint of newly-purchased Ben & Jerry's in your hands. You don't want your ex to think you've resorted to eating ice cream in your PJs on Saturday nights now that you're single, so of course that's exactly when you'll first see them again.
If you're a little bit luckier, you might come face-to-face on the first day of classes, AKA the only day of the school year you wear makeup and get dressed up. But even if you're looking and feeling your best, an unexpected campus run-in with an ex can truly put a damper on your back-to-school mood.
If you're worried about running into your ex on campus after a summer of not speaking, there are ways to prepare beforehand and react appropriately in the moment. Here's how to handle this uncomfortable situation with as much grace as possible, according to two experts.