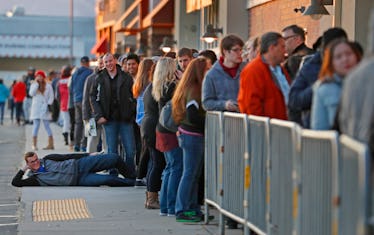 This Is What Time Best Buy Opens On Black Friday For The Shopping Masters
George Frey/Getty Images News/Getty Images
Thanksgiving is just around the corner, which of course, more importantly, means that Black Friday deals are in our midst. While everybody loves a lethargic day of stuffing and political dinner talk with relatives, many people take more interest in stores opening up on Black Friday — and what time people should start lining up. Well, no need to wait any longer, because Best Buy just released its Black Friday times and deals, along with many other big stores. Start making your campout plan now.
Best Buy is set to open at 5 p.m. on Thanksgiving Day and will stay open until 1 a.m. on Friday. They will then reopen doors the same day, Friday Nov. 24 at 8 a.m. and close at 10 p.m. On Saturday, Nov. 25, the store will be open 9 a.m. to 10 p.m, and on Sunday from 11 a.m. till 8 p.m. Basically, Black Friday is a three-day event for shoppers.
Before Black Friday even begins, Best Buy made a number of items available online for Black Friday offers from Nov. 8 to Nov. 11 for people that wanted to get ahead. Best Buy also provided a "preview" option on their website, where shoppers can look at prospective items that will be on sale once they hit the store on Black Friday weekend.
In addition, the Best Buy Early Access sale starts on Monday, Nov. 20, and is available to Best Buy Elite Plus and Elite members to start shopping. By Tuesday, Nov. 21, the early access deals will be available to all 'My Best Buy' members.
Here's a list of other stores' Black Friday schedules:
Other big names have announced their Black Friday deals as well. Macy's will be opening their store at 5 p.m. on Thanksgiving Day and also has pre-Black Friday deals available on their website. Macy's, along with Target and Walmart, were the three brands with the highest sales numbers from Thanksgiving 2016.
Target's Black Friday event starts at 6 p.m. on Thanksgiving. However, the store will close that same night at midnight and reopen on Friday at 6 a.m., which is a new revision to their schedule.
Walmart will open its store doors at 6 p.m. on Thanksgiving, and will run all day online. They are also releasing color-coded maps of its stores to help shoppers easily find the items they are looking and avoid more chaos.
JCPenney will open at 2 p.m. on Thanksgiving. The stores will stay open until 10 p.m. the following day, and online sale prices will start four days ahead, on November 19.
Sears says most of its stores will be open from 6 p.m. to midnight on Thanksgiving, though some will be closed for the holiday. All stores will reopen at 5 a.m. on Black Friday.
Sam's Club opens at 7 a.m. on Black Friday, and the store says sales prices will be valid through that Sunday until supplies sell out. Online sales begin at midnight on Thanksgiving.
Dick's stores will open at 6 p.m. on Thanksgiving and will remain open until 2 a.m. Friday, and the stores will reopen at 5 a.m. that day until 10 p.m.
If Black Friday weekend was anything like last year, shoppers are in for some record-breaking sales, again. Last year, a survey conducted by the National Retail Federation estimated about 137.4 million Americans were planning to participate in Black Friday shopping, which is more than the roughly 134 million ballots cast in the election, according to CNBC.
For those that are serious about Black Friday, start making your campout arrangements now, and tell your relatives ahead of time that you will unfortunately not be partaking in the fun Thanksgiving politics dinner talk. Sorry!