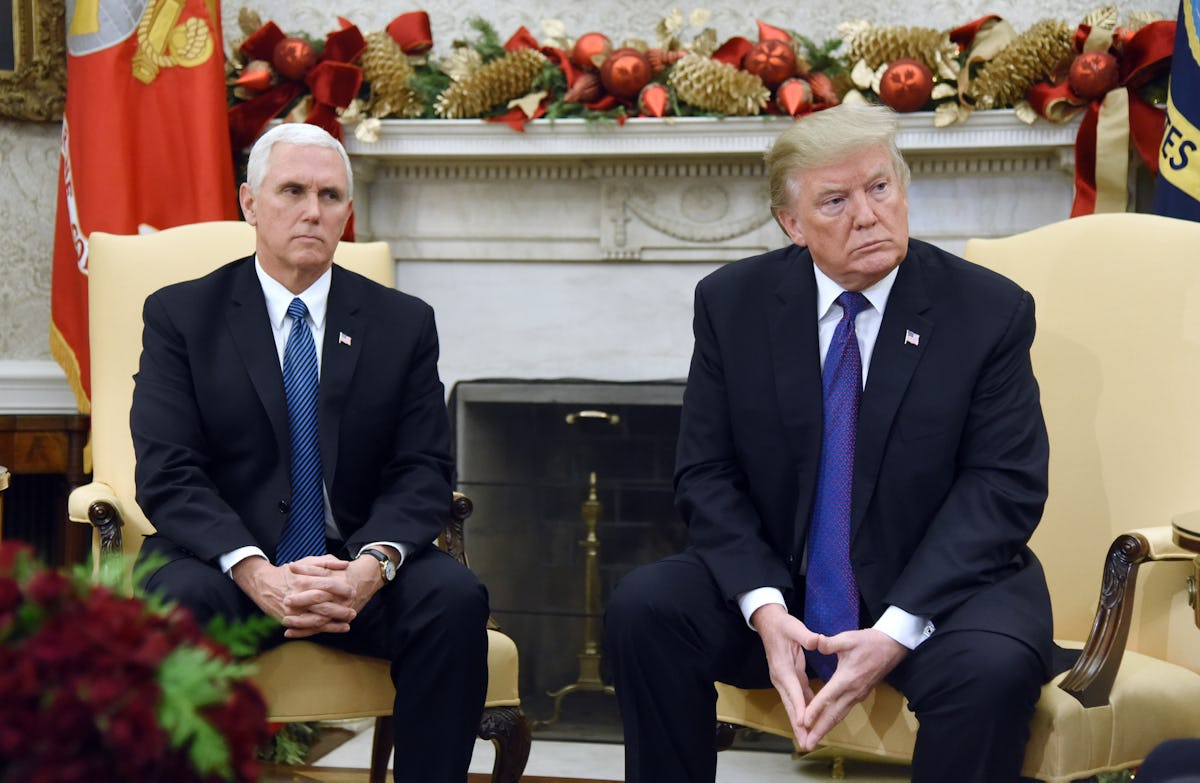 This Is What We'd Need To Stop A Government Shutdown & It Doesn't Look Great
Pool/Getty Images News/Getty Images
During President Donald Trump's first full year in office, there's been a question that has increased in relevance: What stops a government shutdown? That's because Friday, Jan. 19, marks the fourth time in five months that Congress and the White House have taken their efforts to avoid a shutdown down to the wire. Each time, those efforts have become more and more dramatic because a shutdown can only be avoided if enough members of both parties can negotiate and come to an agreement.
A government shutdown is the result of Congress failing to pass an appropriations bill (i.e., a bill to fund the government with a certain budget). The deadline to do so this time around is Friday night.
On Thursday, the House of Representatives passed such a bill, which would fund the government for about a month. This bill passed by a margin of 230-197, with four congress members abstaining from the vote. Among the 230 who voted yea, only six were Democrats.
A similar bill now requires passage in the Senate, which is where negotiation becomes even more important, because passing a budget requires 60 votes in the Senate. With Republicans owning a slim 51-49 majority, they need at least 10 Democrats to agree with the bill (GOP Senator John McCain (R-AZ) is unable to vote, due to health issues).
As of Friday morning, Republicans had not attracted 10 Democrats to agree to the bill the House passed, even with a midnight deadline approaching, hence the impasse and the threat of a government shutdown.
Why Would Congress Members Allow The Government To Shutdown
Because of the 60-vote threshold required in the Senate, either party has the ability dig in its heels and demand a certain priority be resolved before a budget is passed.
When the government shut down for 16 days in 2013, it was because Republicans wanted to force Democrats to agree to debate repealing the Affordable Care Act (aka Obamacare).
Now, in 2018, Democrats have the ability to get at least 42 of its members to stick together and demand a priority of theirs be resolved: the imminent end of the Deferred Action for Childhood Arrivals (aka DACA).
On Friday morning, the leader of Democrats in the Senate, Chuck Schumer (D-NY), signaled that his side would stand firm.
What's The Way Forward?
The subject of budget negotiations is one that moves fast, and anything can change at any moment, especially with the clock ticking. What makes the situation even more unpredictable is the fact that Republican members of Congress don't seem completely sure of whether Trump stands firmly on their side.
On Thursday night, Rep. Mo Brooks (R-AL) told CNN's Chris Cuomo that he doesn't know where Donald Trump stands on DACA. A day before, Senate Majority Leader Mitch McConnell (R-KY) told reporters that he didn't want to consider a deal on DACA because he didn't know where the president stands on the issue either.
"I'm looking for something that President Trump supports, and he has not yet indicated what measure he is willing to sign," McConnell said Wednesday, Jan. 17. "As soon as we figure out what he is for, then I would be convinced that we were not just spinning our wheels."
Shortly after noon on Friday — aka budget deadline day — The New York Times' Maggie Haberman reported that President Trump invited Sen. Schumer to the White House to talk over a budget negotiations.
Trump has already chosen the side of "Chuck and Nancy" (i.e. a deal with Schumer and House Minority Leader Nancy Pelosi (D-CA), in budget talks once before, back in September. Avoiding a shutdown might see him do the same.
Even if that doesn't happen though, and Trump gets Democrats to cave, talks of a government shutdown will only be a month away from starting up again. That's because the current appropriations bill is only a continuing resolution (CR), which would keep the government up and running on a temporary budget that would set a new deadline, Feb. 16.
If that happens, Congress will be right back where it started in about a month, and people will wonder again: What stops a government shutdown?
Negotiation is the only answer.