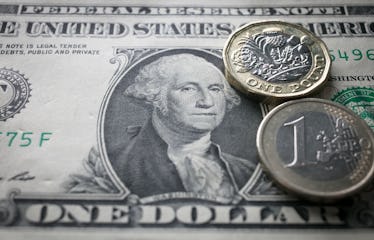 These States Pay The Least In Taxes, So Pack Your Bags & Get Ready To Move
Matt Cardy/Getty Images News/Getty Images
When it comes to paying federal taxes, all Americans share certain rates of taxation based on the income brackets they fall in. Depending on which states taxpayers live in, a separate amount of taxes are paid at different rates. The most highly-taxed states are well known — with states like California, New York, and New Jersey having the unfortunate honor — but the opposite is not as well known: Which states pay the least taxes?
According to financial website 24/7 Wall Street, which provided an analysis of tax burdens in each state, per USA Today, the three least-taxed states in the country are all in the Northern half of the United States.
The analysis defined "least taxed" as the states in which taxpayers paid the lowest percentage of their incomes as taxes, while noting income per capita, income tax collections per capita, property tax collections per capita, and general sales tax collections per capita. First came Alaska, where taxpayers on average paid 6.5 percent of their incomes to the state for taxes, according to 24/7 Wall Street.
Second came Wyoming, with an average of 7.1 percent of taxpayers' incomes going towards state taxes. Third on 24/7 Wall Street's list is South Dakota, where taxpayers also paid in taxes an average of 7.1 percent of their incomes, according to the analysis. The tie-breaker there appears to be the fact that South Dakota has a lower average income per capita, which is at $47,834 per year, according to the list, compared to Wyoming's $55,116.
Rounding out the bottom ten on 24/7 Wall Street's list of least taxed states are Tennessee, Louisiana, Texas, New Hampshire, Nevada, South Carolina and Oklahoma.
However, other analyses differ with 24/7 Wall Street's list.
Personal finance site Wallet Hub, for instance, also compiled a report of the highest and lowest taxes states in America. The report, which was syndicated by CNBC.com, used a methodology that factored in real estate tax, vehicle property tax, income tax, and sales tax rates.
Whereas Wyoming was listed at the second-least taxed state in America on 24/7 Wall Street's analysis, Wallet Hub listed Wyoming as the fifth-least taxed stated. An even more drastic difference between the two reports came in evaluating South Dakota.
While 24/7 Wall Street's analysis listed South Dakota third, Wallet Hub listed the Mount Rushmore State 16th-least taxed state in America. Both analyses did, however, agree on one major point. Both assessed that Alaska is the least taxed state in America.
Alaska appears to owe its status, in part, to the fact that it imposes no personal income tax. Alaska is one of seven states with such a tax policy, the others being Wyoming, Washington, Texas, South Dakota, Nevada, and Florida, according to Intuit, the makers of tax-filing software Turbo Tax.
In addition, Alaska also does not impose a statewide sales tax, but does allow municipalities within the state to impose their own local sales tax rates.
On the other side of the spectrum of least taxed states are the states that pay the most taxes.
Both Wallet Hub and 24/7 Wall Street's analyses agree that Illinois, New York, New Jersey and Connecticut are among the ten most taxes states in the country, though in different orders.
New Jersey and New York are both among the states that have the ten highest personal income tax rates, at 8.97 and 8.82 percent respectively, according to Intuit.
New Jersey, meanwhile, has the unique distinction of having the three counties that pay the highest property tax rates in America. Long story short, consider the numbers from multiple findings, it might be time for people from the Garden state to consider a move to Alaska.