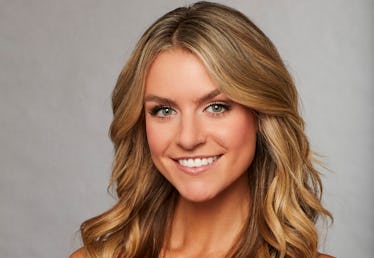 This 'Bachelor' Contestant Hosts Her Own Show, So She's Used To The Spotlight
ABC/Craig Sjodin
Season 22 of The Bachelor kicks off Jan. 1, 2018 and of course #BachelorNation is already curious about the 29 ladies who will be vying for former race car driver and Bachelorette runner-up Arie Luyendyk Jr.'s heart. The contestant bios were recently released and producer Mike Fleiss even tweeted that they were the "best group of women in #TheBachelor history!," so it's no surprise that #BachelorNation is chomping at the bit to officially meet them. This year, the women's professions range from nanny to fitness coach to orthopedic nurse, and there's one contestant whose job already requires her to be on camera. What show does Jessica from The Bachelor host? The 26-year-old Canadian-turned-Angeleno is an experienced TV presenter.
Jessica Carroll is a native of Canada, originally from Calgary, Alberta. Her ABC Bachelor bio states, "I was born in Calgary, Alberta, Canada, but I also love the glitz and glam lifestyle of L.A." It looks like her chosen profession definitely reflects that lifestyle. According to her personal website, she's had numerous hosting gigs working for LA Live, Hollyscoop, and more. She's also credited as being a style expert for HSN. Her About section reveals her extensive experience in the entertainment arena, reading,
On the carpet, Jessica has interviewed countless A-list celebrities from Meryl Streep to Floyd Mayweather; in the studio, she hosts, writes, and produces entertainment news stories that get over 10 million views a month on YouTube. She has her own YouTube channel where some of her videos have over 3 million views.
And Jessica's video reel highlights that she's an absolute pro when it comes to celebrity reporting — it looks like she's covered some major red carpets and interviewed a handful of huge names throughout her career. She even acts as a "beauty guinea pig" for celeb products on her YouTube channel and shares lifestyle, fitness, and fashion tips there as well. Jessica's tried everything from eyelash serum to butt pads to weight loss sauna suits for the sake of her viewers. Let's just say her happy-go-lucky personality shines through on screen and any girl willing to test out a colonic and talk about it gets bonus points with us. We're guessing Jessica won't be the wallflower of the new Bachelor group.
Many Bachelor alums have parlayed their reality experiences into broadcasting careers, even if that wasn't their intention from the start. After being The Bachelorette, Ali Fedowtowski was an E! News correspondent for years. Keltie Knight, who competed in Brad Womack's season, is a correspondent for Entertainment Tonight. Ashley Iaconetti from Chris Soules' season had a gig with Access Hollywood and is a part of two successful podcasts that I personally can't get enough of. It should be noted that she has a Masters in Broadcast Journalism from the esteemed Newhouse School at Syracuse University, so it's no wonder she's come this far post-Bach.
Because Jessica is in the public eye for a living going into the show, it's possible some of the 28 women she's competing against might wonder if she's there for the wrong reasons, so to speak. You never know what will happen on this show. If you've watched the trailer for the upcoming season, it's pretty clear there's going to be tension between at least a few of the ladies.
Jessica explains on her Bachelor bio what marriage means to her: "At a young age, I witnessed true love through my parents. That's what I want." It appears that the 26-year-old is ready to settle down and find what she wants. Will Arie be her one "true love"? We'll have to wait until The Bachelor Season 22 premieres on Jan. 1, 2018 to find out more.