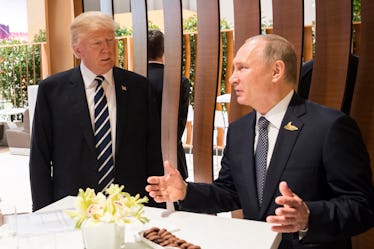 Trump Is Sanctioning Russians For Election Meddling & Yes You Read That Right
Handout/Getty Images News/Getty Images
A month a after group of Russian individuals and companies were indicted by Robert Mueller — the special counsel overseeing the FBI's Russia investigation — President Donald Trump's administration took action against a separate list of Russians and entities that includes some of the same parties. On Thursday, March 15, the U.S. Department of Treasury announced that it was "confronting and countering" Russian cyber-activity. So, what sanctions did the Trump administration put on Russia?
"The administration is confronting and countering malign Russian cyberactivity, including their attempted interference in U.S. elections, destructive cyberattacks, and intrusions targeting critical infrastructure," Treasury Secretary Steven Mnuchin said in the statement. "These targeted sanctions are a part of a broader effort to address the ongoing nefarious attacks emanating from Russia."
The statement also labeled Russia's actions as "continuing destabilizing activities," while singling out the Eastern European country for allegedly initiating cyber attacks, in addition to interfering with American elections.
The sanctions amount to a seizure of assets on American territory and prohibition of Americans doing business with five companies and 19 Russian individuals. The sanctioned parties are also prohibited from traveling to the United States.
"As a result of today's action, all property and interests in property of the designated persons subject to U.S. jurisdiction are blocked, and U.S. persons are generally prohibited from engaging in transactions with them," the Treasury Department's statement said.
The sanctions come on the same day that the United States made a joint statement — along with the United Kingdom, France, and Germany — condemning Russia for allegedly attacking a former Russian spy and his daughter on British territory reportedly by using a nerve agent (essentially poisoning the two victims).
On Feb. 16, the Justice Department — which oversees the FBI — charged 13 Russian individuals and three companies as part of Mueller's investigation.
"This indictment serves as a reminder that people are not always who they appear to be on the Internet," Deputy Attorney General Rod Rosenstein said in a statement announcing the charges. "The indictment alleges that the Russian conspirators want to promote discord in the United States and undermine public confidence in democracy. We must not allow them to succeed. The Department of Justice will continue to work cooperatively with other law enforcement and intelligence agencies, and with the Congress, to defend our nation against similar current and future schemes."
The New York Times reported that, according to court papers, some of the Russians charged were in contact with "unwitting individuals associated with the Trump campaign."
Besides placing sanctions on Russia, the action from the Treasury Department on Thursday appears to represent an acknowledgment of Mueller's findings by the Trump administration. Since entering office, President Trump has often spoken about the idea that Russia interfered with U.S. elections as speculation, rather than a firm conclusion by U.S. intelligence agencies.
After meeting with Russian president Vladimir Putin in November, Trump talked about an exchange in which he asked his counterpart whether Russia interfered in U.S. elections. "Every time he sees me, he says, 'I didn't do that,"' Trump said, per Bloomberg. "And I believe — I really believe — that when he tells me that, he means it. I think he's very insulted by it, if you want to know the truth."
On Sunday, Feb. 18, days after Mueller's indictments were announced, the president addressed the idea that the charges contradicted his own comments on the investigation.
"I never said Russia did not meddle in the election, I said 'it may be Russia, or China or another country or group, or it may be a 400 pound genius sitting in bed and playing with his computer,'" Trump tweeted. "The Russian 'hoax' was that the Trump campaign colluded with Russia - it never did!"
Meanwhile, with the Treasury Department's action on Thursday, the Trump Administration has become much clearer in asserting that it is targeting Russia for election interference, even if the president himself hasn't been as clear.