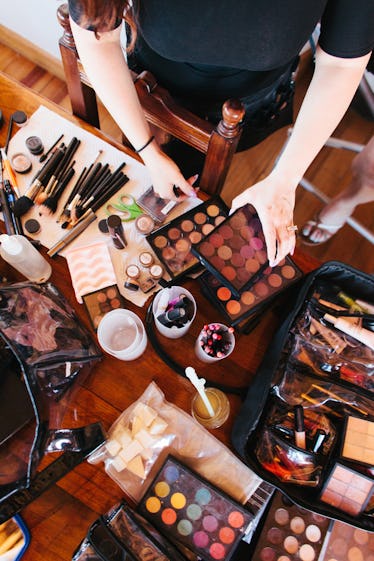 The One Beauty Product You'll Be Obsessed With In November, Based On Your Zodiac Sign
Stocksy
Fall is the best time of year. It brings us not only PSLs and oversized sweaters, but also tons of new products just in time for Scorpio season. If you know your birth chart by heart, then here's the new fall beauty product you must get, based on your zodiac sign.
I don't know about you, but I'm addicted to reading about my sign. Call me a narcissist, but I just love to hear how passionate and mysterious I am, thanks to the position the planets were in at my birth. If my horoscope tells me not to make any big decisions today, then you best bet I won't be going to Chipotle at lunch. Should I get guacamole even though it's extra? This choice is simply too much for me. It's not worth tempting fate over avocado.
But if our signs govern every aspect of our everyday lives, from how we interact with strangers to who we fall in love with, then shouldn't they govern our beauty decisions as well? Will Capricorns yearn for products that are affordable and multi-functional, while Scorpios impulsively spend their entire paychecks on one single luxurious lipstick? Well, you'll just have to read on to find out.
I took the guesswork out for you by narrowing down the stellar new product guaranteed to make you go, "Oh, my stars!"
1. Scorpio
Pat McGrath Labs LuxeTrance™ Lipstick in Attitude, $38, Sephora
What's up, my fellow Scorpios? As you know, we're the most passionate and mysterious of all the astrological signs, and we need makeup to match that, damn it! Just glide on some LuxeTrance lipstick from legendary makeup artist Pat McGrath and prepare for battle. Her lipstick in Attitude is the fiercest cosmetic war paint around.
2. Sagittarius
Milk Makeup The A-Team, $39, Sephora
We know you like to spend more time getting stuff done than doing your makeup, so Milk Makeup's versatile kit is ideal for you. Inside this set, there's a mini version of a Milk stick for every occasion: Blur Stick to prime and prep for makeup, Highlighter in Lit for a poppin' cheekbones, Matte Bronzer in Baked for some beach-y vibes, Holographic Stick in Mars for a peachy-keen effect, Cooling Water to revive puffy eyes, and a Glitter Stick to add sparkle wherever ya want. Plus, this travel set will fit nicely in your toiletry bag as you jet off on your next adventure.
3. Capricorn
M∙A∙C Robert Lee Morris Mattene Lipstick in Lychee, $25, MAC Cosmetics
This new lipstick from MAC's Robert Lee Morris collection is suitable for any tradition-honoring Capricorn. Who is Robert Lee Morris, exactly? Just a super-successful sculptor and jewelry designer, a generally fancy AF human. Embrace the matte black and antique gold packaging and give yourself the gift of luxury. We know you aren't into frivolity, but you deserve a sensible, everyday lipstick.
4. Aquarius
NYX In Your Element Shadow Palette in Air, $30, NYX Cosmetics
Fair Aquarius, you aren't moved by emotions of sentimentality. So let's get you a down-to-business shadow palette that's original and wearable. Represent your air sign with this pastel palette from NYX. You can alternate between the shimmery and matte shades as you see fit. Plus, how gorge and water-esque is that sky blue hue on the left side?
5. Pisces
Fenty Beauty by Rihanna Starlit Hyper-Glitz Lipstick in $upanova, $19, Sephora
Those born under Pisces are known for their imaginative minds and their artistic sensibilities, so they need a lipstick worthy of their creativity. What better than Fenty Beauty's Starlit Hyper-Glitz Lipstick in $upanova? It's just as stunning in the tube as it is on your lips. Shine bright like a diamond and smolder like a bad b*tch, simultaneously.
6. Aries
Sally Hansen Salon Chrome, $15, Target
A confident Aries deserves a daring chrome manicure. This new set by Sally Hansen will help you to achieve the wildly-popular chrome look from the comfort of your own home. Your claws will be just as dynamic as your personality, finally.
7. Taurus
Pinrose The Ruler Travel Fragrance Pack, $24, Pinrose
We know you're practical but still appreciate the finer stuff, Taurus. So what's more responsible than trying out a fragrance before you commit to a whole big bottle? This travel pack comes with 20 fragrance petals, aka on-the-go wipes doused in perfume, in three different scents: Tambourine Dreamer, Treehouse Royal, and Garden Gangster. These scents are effortless, elegant, and sharp as a tack, aka Taurus in fragrance form.
8. Gemini
Bite Amuse Bouche Two Toned Lipstick in Chai/Nori, $26, Sephora
As you Geminis already know, your sign represents duality within the personality, so Bite's Two Toned Lipstick will help you show the world what you're made of. Wear Chai, the mauve brown tone, when you're feeling like Beyoncé, and Nori, the deep brown-red, when you're feeling like Sasha Fierce.
9. Cancer
NYX Strobe Of Genius Holographic Stick, $9, NYX Cosmetics
Oh my sensitive Cancers, what better represents your dramatic and dynamic inner emotional life than a Holographic Illuminating Stick? Just as ephemeral as your mood, this highlighter will shift and shimmer under the light. Wear your heart on your sleeve, er... cheeks with this easy-to-pull-off and inexpensive stick.
10. Leo
Kat von D Everlasting Glimmer Veil Liquid Lipstick in Thunderstruck, $22, Sephora
Are you ready to take center stage? No one will be able to take their eyes off your lips while you're wearing Kat von D's Everlasting Glimmer Veil in Thunderstruck. Friends and foes alike will be hypnotized by your metallic pout drenched in intoxicating champagne with gold and pink glitter. You can even mix it with a primer to create an all day, waterproof liquid face illuminator, so you can really shine like the star you are.
11. Virgo
Physicians Formula Mineral Glow Pearls Powder Palette in Pearl, $11, Physicians Formula
We know Virgos are extremely detail-oriented, so you're bound to appreciate such a beautiful illuminator. Pretty in the packaging and even prettier on, this Physicians Formula Mineral Glow Pearls Powder will get your highlight so bright, it beams across the room, straight to the babe you're hoping to ensnare. FYI: it's part of the brand's 80th Anniversary Collection, so make sure you snatch it up before it's all sold out.
12. Libra
Anastasia Beverly Hills Prism Eye Shadow Palette, $42, Sephora
Well hello there, my fair Libras. Don't you deserve a well-balanced eyeshadow palette to match your well-balanced sensibilities? With the perfect mix of matte and metallic finishes, you're sure to create a truly harmonious eye look in no time. For an everyday look, pair Lucid with Lure. When you're feeling a little frisky, paint on Eternal, Saturn, and Parallel. The ABH Prism Palette is totally fitting for you, you cosmic goddess.