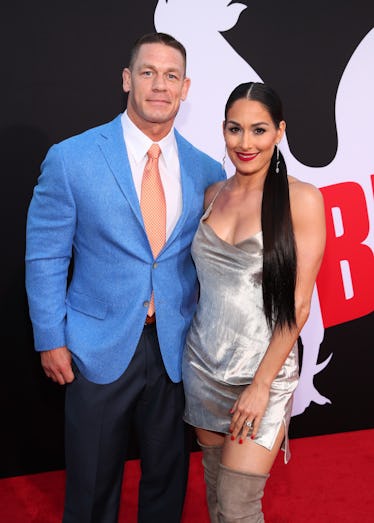 What John Cena Texted Nikki Bella After They Called Off Their Wedding Will Piss You Off
Christopher Polk/Getty Images Entertainment/Getty Images
All the gory details of Nikki Bella and John Cena's relationship are coming to light thanks to their reality show Total Bellas. In a new video clip released by E! Entertainment, fans of the couple can see Bella tearfully revealing to her family that she and Cena have called off the wedding. The video clip itself is tough to watch on an emotional level, but what John Cena texted Nikki Bella in the wake of their split is even more heart-wrenching.
If you've been following Bella and Cena's relationship woes over the last few weeks, you might have heard that the two pro wrestlers simply couldn't agree on whether to become parents. Apparently, that was the main cause of them choosing to call off the wedding. And, in the middle of all that, here's what Bella said about the text Cena sent her:
He sent me this text last night, and he goes, 'The day you become a mom and look at your baby, I'm expecting to get the first thank you text.' But it's like, I wanted him to be the father of my kids.
I mean, wow. That is so incredibly sad. And maybe a little insensitive, considering you're texting the woman who wanted to have YOUR babies, John! Anyway, in the video clip, Bella is clearly torn about the whole situation. She's seen crying quite a bit while explaining to her family that she and Cena are no longer going forward with the wedding.
The video clip also makes clear that Bella and Cena were taking a break at the time because Cena needed "some space." Here's what Bella had to say about that:
I feel like such a huge piece is just missing from me. It's just weird, first morning in six years not to talk to him, you know? ... Our life is one, that's what's so hard.
So heartbreaking! Bella clearly planned a future around her relationship with Cena. It must be awful to realize that your future is up in the air so suddenly.
Here's a look at the tear-filled video:
Bella's sister Brie also really sympathized with the situation. In the video, she explained that Cena felt like a brother to her and she was worried about his emotional state as well as her sister's:
I just don't want him to be, like, lonely, and I don't want him to regret not being a dad, and that's what's sad because John feels like a brother, and I hate thinking in my head that he's going to be alone. It makes me so sad.
Gosh, the whole situation is terribly sad all around. And it really seems like the entire family was affected by the breakup.
Thankfully for everyone involved, the romance between Bella and Cena has since been rekindled. At least, according to People.
In a report from People from May 21, a source close to the couple revealed that calling off the wedding was a shock to their systems:
They both got a wake-up call once they canceled the wedding, and they both realized they could fix what was broken.
So, now the two are back together and trying to mend what's broken in their relationship.
Although they weren't in agreement about parenthood before the wedding, it now seems that Cena has changed his tune regarding children. In a recent interview with Hoda Kotb and Kathy Lee Gifford on the Today Show, Cena explained that he'll do what it takes to have Bella back in his life:
I love her. I want to be with her. I want to make her my wife. I want to be the father of her children. I just want us to work.
Hopefully, Bella and Cena can make it work and have the life they've both been dreaming of for so long. They deserve it!