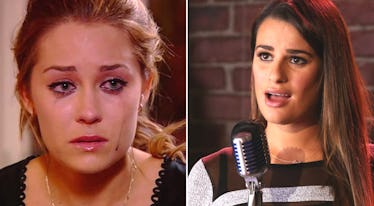 Netflix's New Reality Series 'Westside' Is 'The Hills' Meets 'Glee' & I'm All In
MTV, Fox
Netflix has the perfect remedy for all of us who still miss Lauren Conrad and Rachel Berry from our TV screens. The streaming service has just picked up a brand new reality docu-series called Westside that it is describing as a cross between The Hills and Glee. That's a pretty enticing sales pitch if you ask me! So, what is Westside going to be about, and when can you expect to see it pop up on your Netflix queue? Let's talk all about your new reality television obsession.
Westside was just announced via Vulture, which was given a full debriefing on Netflix's new string of unscripted series. The streaming service has three new unscripted shows that it is set to release soon, and Westside is the most ambitious of the bunch. The new series is filmed in the documentary style that helped make shows like The Hills, Jersey Shore, and Real Housewives so popular, except it will follow a group of aspiring singers trying to make it in Hollywood. Producer Jenn Levy laid out the set up of the series as follows:
It's a really never-done before approach to a docu-soap. It tells the story of nine aspiring musicians living in Los Angeles, working together, hanging out together. There's character development and plotlines you find in some of our best scripted series. But it's all done in a really raw and authentic way.
So, you can probably get the comparison to The Hills right away, but where does the Glee influence come in? Jenn Levy revealed that what sets Westside apart from other reality docu-series is that its musical stars will break into song, like the Glee cast or La La Land stars did.
The hook is, they also break into song. Think The Hills meets La La Land or Glee with a whole lot more edge.
Netflix has given Westside an eight-episode order, but a premiere date has not yet been announced. The series was one of three new unscripted shows that Netflix just picked up. The streamer has also greenlit ten episodes of The Fix, which is a new comedy series hosted by Jim Carr in which comedians will be tasked with thinking up creative solutions to massive issues that are facing the world. And then there is also Sugar Rush, a new baking competition where professional bakers will face off to create beautiful and delicious confections within challenging time constraints.
The new push for unscripted shows on Netflix follows the recent surprise success of the streamer's makeover reboot Queer Eye. The viral success of the series, which premiered at the beginning of 2018, was immediately apparent, and now Netflix is redoubling its efforts in its relatively sparse unscripted department. Reportedly, the streaming service is hopeful that Westside will replicate the social media explosion of Queer Eye when it debuts. And Sugar Rush sounds like it is a fitting follow-up to Netflix's other unscripted success Nailed It, which is another baking competition series that received a considerable amount of social media love when it debuted.
Westside will also mark Netflix's first foray into docu-series, a format that has been primary focus for cable networks like MTV and Bravo for over a decade now. Many mark early hits like MTV's Laguna Beach and Bravo's Real Housewives franchise in the mid-2000s as what ushered in the modern success of the genre. Thanks to endless spinoff and retooling possibilities, both networks turned these early successes into sprawling, brand-defining behemoths. If Westside does wind up becoming a hit for Netflix, then it is totally possible that the reality docu-series genre could grow and grow on the streaming service as well.
Keep your eye out for Westside to premiere on Netflix sometime later this year.