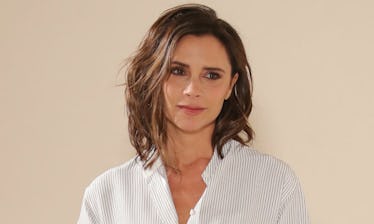 Victoria Beckham's Net Worth Is So High, It'll Seriously Blow Your Mind
Photo by Neilson Barnard
Before she was a hugely successful fashion designer and one of the most stylish women on earth, Victoria Beckham was a hugely successful pop star with a Barbie doll crafted in her likeness. She's also an author, a mom of four, and she's even got her own fragrance. Yup, the woman formerly known as Posh Spice may be married to retired soccer star David Beckham, but this Brit is both iconic and prosperous in her own right. Seriously, you guys, Victoria Beckham's net worth is so impressive you'll want to slam your body down and wind it all around. Or something like that.
According to Celebrity Net Worth, Easy V is worth a cool $450 million. Zigazag-freaking-AH! She started her career girl power-ing it up as a Spice Girl after answering an ad in The Stage in 1994. The group also included Geri Halliwell, Emma Bunton, Melanie Brown, and Melanie Chisholm, and their first single, "Wannabe," went to number one in the UK and 36 other countries. The girls went on to have nine other number one singles from three albums, until they split in 2000 and basically ruined my entire year. They reportedly made a staggering $75 million a year at the height of their success, though, so mad props! And they raked in another $69 million on their reunion tour in 2008. So yeah, that's pretty impressive.
Instead of wasting her precious time once her music career was dunzo, Beckham made a move into the world of fashion in 2004, and eventually launched her own eponymous label in 2008. She starting out designing dresses before moving onto separates, handbags, jeans, and fragrances. Fast forward to now and she's pretty much a fixture at fashion weeks all over the world. She's also appeared as a judge on various TV shows like Project Runway, Germany's Next Top Model, and American Idol. She was awarded Woman of the Year and Entrepreneur of the Year from British Glamour, and she has graced the cover of Vogue several times.
Mannnn, Posh works hard! And she always looks smokin' hot while doing it. But what this mama wants — what she really, really wants — is to pass that enviable work ethic on down to her four kiddos: Brooklyn, 19; Romeo, 15; Cruz, 13; and Harper, 6. "It's never been an option not to work hard," she explained to Evening Standard in May 2018. "They see Mummy go to work, they see Daddy go to work, and they go to school and they have to work. But at the same time they're happy children. I believe that children should be children, and have fun. I like to push them because I want them to achieve as much as they can, but I don't want to push them so much that it makes them overly stressed. No child wants to do homework. As parents, we've always got to give them a kick up the bum. That's our job. I'm not saying they love doing it — they don't— but it's compulsory."
Such a queen! And I just decided that I'm totally gonna start working the word "compulsory" into my everyday vocab.
Meanwhile, Harper, Beckham's youngest, already seems to be grasping the whole work hard, play hard thing. "She gets up early, does her spelling, does her Kumon," Beckham told the publication. "She works hard, but she's a happy little girl.'"
So sweet! *Googles "Kumon."*
Meanwhile, in September, Beckham will show her spring 2019 collection at London Fashion Week, an event which will mark her brand's 10-year anniversary. "I'm a little bit nervous, but excited," she said. "We haven't found a venue yet. But I couldn't think of anywhere better to celebrate. This is my home."