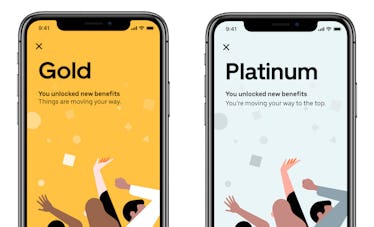 Uber's New Rewards Program Lets You Earn Cheaper Rides, Priority Pickups, & More
Courtesy of Uber
If you're a frequent Uber rider (which, hello, I definitely am), you're going to be stoked about the company's latest endeavor. On Wednesday, Nov. 14, the ride sharing platform unveiled its very own loyalty program called Uber Rewards — and it'll help frequent riders earn points that'll score them cheaper rides, priority pickups, and so much more. Now, I'm sure you're excited to learn about what Uber's Rewards program is and how you can get involved. Thankfully, it's super easy — and totally free — to sign up for. In fact, you can become an Uber Rewards member without spending a penny... and it'll actually help you save money in the long run.
Before I break it down for you, I'll give you a quick overview of the program. For starters, Uber Rewards helps Uber customers gain a certain amount of points for ever eligible dollar they spend on rides or Uber Eats. Then, those points add up and help customers unlock one of four membership levels, which include Blue, Gold, Platinum, and Diamond. Once you sign up for the program, you'll automatically be put in Blue. However, the amount of points you've acquired for six months prior to signing up will count toward your level — so, you might unlock a higher tier upon joining.
Here's a breakdown of the point system:
500 points = Gold
2,500 points = Platinum
7,500 points = Diamond
So, how do you earn the points? That, my friend, depends on which Uber service you use. For instance, you'll get one point for every dollar you spend on UberPool or UberEats. Then, you'll get two points for every dollar you spend on UberX, UberXL, Select, and WAV. Finally, you'll earn three points for every dollar spend on Black and BlackSUV.
Once you start taking rides and collecting your points, you'll be able to take advantage of the following tiers: