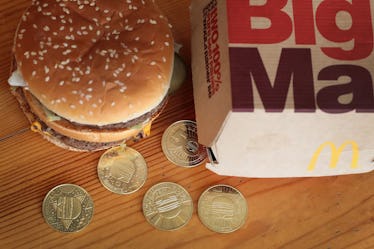 McDonald's Is Giving Away Free Big Macs, As Long As You Have This One Thing
Scott Olson/Getty Images News/Getty Images
If you haven't already heard, the McDonald's Big Mac is celebrating its big 5-0 on Thursday, Aug. 2. The Golden Arches is kicking off the famed burger's milestone birthday with a special form of payment, so you can come back for a free Big Mac at a later date. Not just anyone is privy to receiving the fast food gold coins, though. Like all good deals, there are a few stipulations to scoring the money-saving change. What is the McDonald's MacCoin? The celebratory currency will get you free food.
The McDonald's Big Mac knows how to party. The burger with that tasty special sauce turns 50 at the beginning of August, and McDonald's is giving customers a chance to keep the celebration going all week long. Starting during the lunchtime hours of Thursday, Aug. 2, anyone who orders a Big Mac will receive a free MacCoin with their purchase. Move over Bitcoin, because the MacCoin is here to get you another two-patty burger for free. That's right, by purchasing one Big Mac, you can get another one at no cost with your MacCoin. There are a few things to note, though. In order to get a MacCoin with your Big Mac purchase, you must place your order at one of the 14,000 participating McDonald's locations in the United States, according to McDonald's. With so many stores, you should have no problem securing your prized MacCoin. The coins are available as long as supplies last.
I've got good news and bad news. First, here's the bad news: You won't be able to use your MacCoin on Thursday, Aug. 2. I know that you probably were hoping to celebrating in style with a Big Mac in each hand. I know I was. Now, for the good news. Starting on Friday, Aug. 3, you can redeem your MacCoin for a free Big Mac (!!!) at participating McDonald's restaurants across the nation — and in over 50 countries — through the end 2018, according to McDonald's. While you'll have to wait another day to snack on your free Big Mac, it will still totally be worth the wait. This way, you can keep the party going all week long (and you've already got lunch or dinner planned for Friday). It's a win-win.
McDonald's will distribute more than 6.2 million limited edition MacCoins globally, according to McDonald's. The tiny gold coins feature five rare and exclusive designs spanning the five decades of the Big Mac including the following:
1970s: Flower power
1980s: Pop art
1990s: Bold and abstract shapes
2000s: Technology
2010s: Growth of new communication forms
The MacCoin will also pay homage to the many countries that McDonald's calls home by featuring the following languages: Arabic, English, Indonesian, Mandarin, Portuguese, French, and Spanish.
"Since it was introduced at a family-owned McDonald's restaurant 50 years ago, the Big Mac has traversed the globe and is enjoyed in cities from Shanghai to Chicago, providing delicious, feel good moments to people all over the world," McDonald's President and CEO Steve Easterbrook said in a press release. "So we wanted a global celebration as unique as the burger itself. The MacCoin transcends currencies to commemorate our global iconic burger while giving customers all over the world a chance to enjoy a Big Mac on us."
While the MacCoin almost seems more like a collector's item, you will have to turn it in to get your free grub. Alas, I'm not one to pass up on a free meal, so I'll be turning my MacCoin in for the fast food joint's signature Big Mac burger.