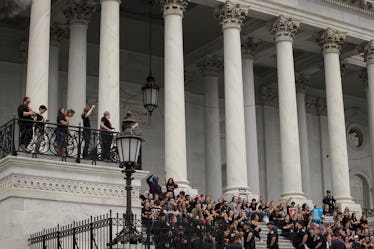 Alexandria Ocasio-Cortez Is Backing This Plan To Stop Climate Change Before It's Too Late
Drew Angerer/Getty Images News/Getty Images
On Tuesday, Nov. 13, incoming freshman Rep. Alexandria Ocasio-Cortez came to show her support as a group of hundreds of young protesters swarmed the halls of Congress with signs reading, "Step up or step aside," and "What is your plan?" Their goal: To send a message to lawmakers that lip service wouldn't be enough to appease the next generation on climate change. Together with a group of lawmakers including Ocasio-Cortez, the group of activists has a plan to level-up in the fight to protect the planet. So what is the Green New Deal?
The Sunrise Movement, a youth-led activist organization pushing for extreme progress to tackle climate change, is petitioning leaders in Congress to take serious steps — and soon — to address the issue before it's too late. Ocasio-Cortez addressed protestors from Sunrise Movement and Justice Democrats gathered inside the office of California Rep. Nancy Pelosi, the veteran Democratic leader making a bid to again become Speaker of the House. "I just want to let you all know how proud I am of each and every single one of you for putting yourselves and your bodies and everything on the line to make sure we save our planet, our generation, and our future," she said.
The movement published a petition addressed to Pelosi and Democratic leadership. "We're asking our leaders to step up to the fight alongside us," it read. "Create a climate action plan now or step aside for new leadership who will." Elite Daily reached out to the Sunrise Movement and Pelosi's office for comment, but had not received a response at time of publication.
Sunrise's proposal is based on the urgency with which they feel the issue must be addressed. "We have 12 years to transform our economy and society to stop climate change," the petition reads; per the United Nations, at the current rate the planet has until the year 2030 to curtail and reverse emissions of greenhouse gases before it reaches a breaking point, after which cataclysmic effects are all but certain.
The deal lays out a series of detailed, if ambitious, demands that must be met before the climate reaches a point of no return. Among them: A converting the nation to 100 percent renewable energy in conjunction with a nationwide "smart" energy grid, decarbonizing key industries, investing in removing CO2 from the atmosphere, and becoming a global leader in green industries. The proposal comes in the form of a draft resolution to reinstate a select committee on climate change, specifically for enacting a Green New Deal, which was authored by Ocasio-Cortez and her staff with input from Justice Democrats and Sunrise.
Importantly, the Green New Deal doesn't treat climate justice as independent of other social justice concerns; rather, it sees them as part and parcel of issues like reducing poverty, bringing back jobs, and mitigating discrimination in institutions. Those in poverty may be more vulnerable to the damaging effects of climate change such as sea level rise, drought, and natural disasters like hurricanes. "Catastrophic climate change touches so many other intersecting issues," Waleed Shahid, the communications director of Justice Democrats tells Elite Daily by email. "The communities that are most impacted tend to be working class or people of color while the people most responsible for causing climate change are white and ultra-rich."
The plan quickly gained fans far and wide, from celebrities to political pundits to leading climate change experts.
Other key lawmakers, including some who, like Ocasio-Cortez, haven't taken office yet, also publicly supported the deal: Deb Haaland of New Mexico, Rashida Tlaib of Michigan, Ilhan Oman of Minnesota, and Ro Khanna of California.
The deal has become a lightning rod in the bid for who will become the next Democratic House speaker in 2019. "I don't want to see Miami underwater, I don't want to see my own district underwater, and I know that Leader Pelosi doesn't, either," Ocasio-Cortez told reporters Tuesday outside Pelosi's office, per Politico. She stressed that she was on Pelosi's team and was making a show of encouragement to push forward on climate action.
Pelosi herself signaled she was on board, posting in a tweet Tuesday that she was "Deeply inspired" by the show of force with the young activists and supported reinstating the select committee.
Should Pelosi become the next speaker, as she signaled Thursday, Nov. 15 she had the votes to do, the question then becomes whether she will sign on to the Green New Deal that so many young people are pushing for. While Pelosi released a statement promoting climate resiliency efforts and the committee, no mention was made that she'd get on board with the Green New Deal her colleagues have signed onto.
But if the proposal's trajectory — and the energy behind it — thus far is any indication, it may at least have the power to change the conversation around climate change in Congress in the year to come.