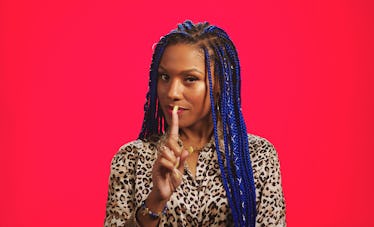 I Have 1 Major Question About Terilisha From 'The Circle'
Netflix
Deception is the name of the game in The Circle, but usually the viewers are at least in the know about who's lying about what. One contestant may have changed up this strategy in Season 2, though, because a quick look through everyone's favorite blue-haired teacher's IRL social profiles will have you wondering what The Circle star Terilisha's job really is. It looks like she may have hidden her true profession from the other players without telling anyone — even fans watching at home.
As one of the first players to enter Season 2 of The Circle, Terilisha put her smarts front and center in her Circle bio, writing that she's a full-time substitute teacher with a passion for mathematics. While it's possibly true that she has a knack for math and has worked as a teacher, Terilisha failed to mention that her main career path is as a singer and actor. One look at Terilisha's Instagram reveals she's all about R&B music, having released her own five-song EP titled The Blue Heart in 2019. She also starred in the web series #Washed from 2018 to 2020.
Fans can check out Terilisha's music on Spotify:
While lying about your job is pretty common on The Circle, it's strange that Terilisha didn't even tell the cameras about her music and acting career when she was in the privacy of her own room. The new reality star seemed to poke fun at her Circle persona a bit on Twitter when the show's account revealed she was a math theorist.
Terilisha's website seems to indicate she has always been more focused on music than math. She began singing in church choirs and girl groups as a child, then launched her solo career at age 17 in 2003 and has been releasing R&B bops ever since.
Now that she's such a standout on The Circle, a ton of new people are sure to discover and fall in love with Terilisha's music. But it still seems strange the singer hasn't yet mentioned her true passion on the show. Hopefully, viewers will get to find out more in upcoming episodes, or Terilisha herself will spill some tea on her decision to not disclose that part of her life on social media.
New episodes of The Circle Season 2 drop Wednesdays on Netflix.