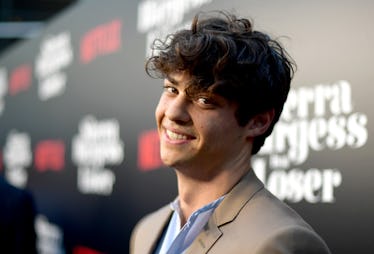 Noah Centineo's TV Show Is Headed To Hulu, So Get Ready To Binge
Matt Winkelmeyer/Getty Images Entertainment/Getty Images
News outlets may have finally hinted that a To All the Boys I've Loved Before sequel is in the works, but anyone who can't wait that long for a dose of Peter Kavinsky is in luck. Less than a year after he finished a TV role on Freeform's The Fosters, Noah Centineo will soon return to a TV show that you may have missed out on beforehand. Centineo will reprise a role on the upcoming third season of Hulu's thriller series T@gged, but if you've never seen the show, we have you covered. What is T@gged about? The creepy series doesn't feature Centineo in a starring role, but if you're interested in the darker side of social media, the show is right up your alley.
Premiering back in 2016 on the now-defunct video service go90, T@gged follows three high school girls who become the targets of a social media murderer. The stalker, known by the username "Monkeyman," tags them in a series of disturbing videos, leaving clues for the girls to track down who is threatening them. As the show progresses, another online threat named KingCobra presents more danger. Essentially, think of the series as an even more twisted and technologically advanced version of Pretty Little Liars.
If you're worried about Centineo playing a terrifying stalker and ruining your crush on Peter Kavinsky, stay calm. After first playing the character in Season 2, he will appear again in Season 3 as Hawk Carter, the boyfriend of main character Hailey (Lisa Marie Johnson). While the main focus of the series is on the young women facing these scary circumstances, Hawk is also seen in the new season trailer looking concerned about Hailey's mysterious disappearance.
Although Centineo became known on TV for replacing Jake T. Austin on The Fosters, the success of Netflix's To All the Boys I've Loved Before has catapulted him to a new level of fame this year. Thanks to his role as the internet's boyfriend now, fans studying Centineo's filmography might have discovered T@gged earlier this year, but it was an easy show to miss. Beginning as episodes only accessible on the go90 phone app, T@gged's original format seemed to fit its tech-savvy storyline perfectly. With its first two seasons now available on Hulu before Season 3's Dec. 7 premiere, the show seems bound to gain more fans in the next few weeks.
As for what else you can see Centineo in before we hear more about the To All the Boys I've Loved Before sequel, he has several projects coming up in 2019. For now, you can catch him in a starring role in the movie Swiped, which you can currently rent or buy for viewing on Amazon. The young actor also has an idea of who he'd like to play opposite onscreen someday, telling BriefTake:
Gaspar Noé is someone that I'd love to work with! I'd also love to work with the Nolan brothers, Matthew McConaughey, Mark Ruffalo, and Margot Robbie...I really enjoy being a part of this industry and I'd like to continue to support the women's movement in this field.
Hawk in T@gged won't be as swoon-worthy as Peter, but here's to spending some cold winter nights watching Centineo in a very different world. Season 3 of T@gged premieres on Hulu on Friday, Dec. 7.