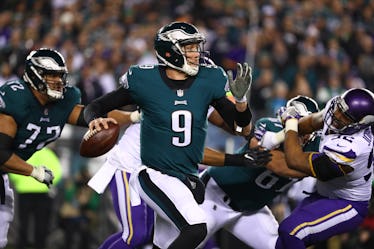 Nick Foles' Net Worth Will Make You Even More Jealous Of The Quarterback
Al Bello/Getty Images Sport/Getty Images
When quarterback Carson Wentz went down with a torn ACL with only two games left in the regular season, it seemed like the death knell for the Eagles, who, up until then, were the NFC favorites to head to the Super Bowl. In his place stepped up Nick Foles, the Eagles backup, and someone who had started for them before. Still, no one knew if Foles could really take over and get the team through the playoffs. Now he's heading to the Super Bowl as the starter. What is Nick Foles' net worth? How much does the man behind the man, who turned out to be just the man the Philadelphia Eagles needed, make in a year?
Foles' career in the NFL follows the pattern for many of the non-marquee names that nonetheless have it in them to play well, and sometimes really well when needed. Growing up in Texas, he was a high school quarterback who then went on to play in Arizona. In 2012, he was drafted by the Eagles, and even became their starter for a time after their starter, Michael Vick, went down with injuries.
While he had good days, and sometimes very good days, including becoming the first quarterback in NFL history to throw seven touchdowns in a single game while maintaining a perfect passer rating, his seasons were merely solid instead of spectacular. His rookie quarterback season the Eagles went 4-12. The next year, they went 10-6 but were instantly knocked out in the playoffs.
That kind of thing just isn't good enough to stay the starter, and Foles was let go. He spent the next two years a journeyman for the St. Louis Rams and Kansas City Chiefs, before winding back up in Philly, as the backup behind Wentz.
So how much does a quarterback in that position wind up making? It's nowhere near Tom Brady's $180 million, but it's not too shabby either. Foles' current net worth, according to TheRichest, is $6 million per year. (His contract gives him a baseline of $4 million, with bonuses. One imagines all the bonuses have kicked in over the last six weeks.) Celebrity Net Worth estimates his overall net worth from the last few years as being in the $13 million dollar range.
That's not bad money for being hit in the head for a living, but Foles comes from entrepreneurs and, if he becomes a Super Bowl-winning quarterback this weekend, his name could become worth a lot more, especially if he chooses to lend it to a start-up business, like restaurants.
Why restaurants? Because that's where the family business is centered. Foles' father, Larry Foles, is a high school drop out who became a self-made millionaire. His first restaurant was opened in 1973, Saturday's, in Baton Rouge. He then was co-owners of Chez Fred in the 1980s, and Z'Tejas Southwestern Grill in the 90s. But it was Eddie V's Edgewater Grille that really took off, and after growing the business across the southwest, he sold all eight locations to Darden Restaurants Inc. for $59 million.
With that kind of business acumen in the family, Foles is basically set whenever he decides to retire from the field, which was a distinct possibility this time last year when he was trying to find a team that would hire him. But now, that might not be for a few more years yet. We'll have to see what happens when his team faces Tom Brady and the Eagles for the championship.
The Super Bowl airs this coming Sunday, Feb. 4, 2018, on NBC, starting at 6:15 p.m. ET.