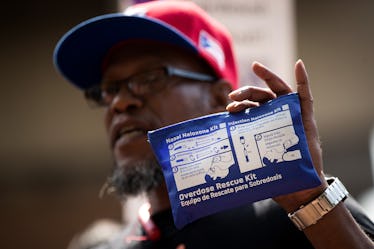 You Really Should Know About This Life-Saving Drug For Opioid Overdoses
Drew Angerer/Getty Images News/Getty Images
Have you ever witnessed an overdose? Trends indicate that one day you might, as the opioid epidemic continues in the United States. You should know there's a readily-accessible drug that can revive a person mid-overdose. So, what is naloxone? The surgeon general is advising people to carry it.
"The call to action is to recognize if you're at risk," U.S. Surgeon General Jerome Adams told NPR Thursday, April 5. "And if you or a loved one are at risk, keep within reach, know how to use naloxone."
Narcan, the brand name for naloxone, is an opiate antidote that temporarily reverses the effects of narcotic drugs and medications such as heroin, codeine, morphine, methadone, or Vicodin. It can be administered via nasal spray or injected into muscle tissue, though the nasal spray is the most common and much more accessible for the average person, per NPR, as it is available in most states without a prescription. Researchers found a tenfold increase in Narcan sold by retail pharmacies in the U.S. between 2013 and 2015.
If you're already thinking you don't need it — you might want to reconsider. From 2015 to 2016, opioid overdose deaths increased by nearly 28 percent, according to the Centers for Disease Control and Prevention (CDC), which indicates that the opioid epidemic is worsening.
Adams is trying to change the conversation about Narcan and drug addiction by encouraging people to actively purchase the medication for safekeeping.
"We should think of naloxone like an EpiPen or CPR," he told NPR on Thursday. "Unfortunately, over half of the overdoses that are occurring are occurring in homes, so we want everyone to be armed to respond."
The purchase could cost you, though. With its rise in popularity, and state funding in finite supply, Narcan prices are rising.
Next year's federal spending plan calls for $6 billion in funding to respond to the opioid epidemic, per NPR. Adams also noted that there are state grants which can enable them to give it out for free.