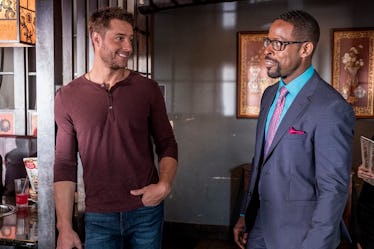 This Week's 'This Is Us' Episode Title Has A Deeper Meaning Than You Realize
Ron Batzdorff/NBC
Kevin's obsession with Jack's past in Vietnam on This Is Us reached a peak in the Oct. 30 episode after he shared the photo of Jack and his mystery woman with Randall. Despite his initial reluctance, Randall ultimately gave Kevin his blessing to dig for the truth about Jack, but the brothers' time in a Korean restaurant introduced a new phrase that soon linked to Randall's budding councilman campaign. What is "Kamsahamnida"? The title of This Is Us Season 3 Episode 6 has a special meaning for the Pearson campaign's new targeted voters.
Already a little uneasy from Councilman Brown's tepid welcome to his community church, Randall's time with Kevin at the Korean restaurant turned into a more eventful affair than he pictured. The Manny was apparently a Korean hit under the name The Baby Guy, even inspiring a K-pop song. When Kevin arrived to discuss the photo of their dad with Randall, the staff rolled out its star treatment and presented the brothers with a complimentary meal. Used to Koreans' warm reception, Kevin told an adoring waiter, "Kamsahamnida," and Randall echoed him.
The quick language lesson came in handy when Randall began his mission of appealing to voters in the district's Koreatown area. A skeptical resident confronted Randall, accusing him of being transparent and using Kevin's fame to woo voters. Clearly used to the district's government corruption, the man claimed that Randall would never actually help citizens if he won. This prompted Randall's speech about seeing signs of struggles in the town and wanting to listen to people's concerns.
To top off the vulnerable moment, he shared the only Korean word he knew: Kamsahamnida. The moment convinced Jae-won the cynic, as well as his Korean-born grandmother, that Randall had the capacity to care about this underrepresented community if its residents cooperated with him. Jae-won later volunteered himself as Randall's campaign manager, which gave Randall enough of a boost to ask Beth to work on the campaign with them.
According to Tripzilla, the most common way to say "thank you" in Korean is to use "Kamsahamnida." The travel site also recommends that a person nods while saying it to show the utmost respect, as Kevin and Randall did in the restaurant. It's one thing to use the term with a waiter, but using the reverent phrase in a market toward several strangers was a wise move for Randall. He hasn't even touched upon his unique childhood with Jae-won, but as viewers, we know that Randall understands what it's like to feel a little displaced and unrepresented. At this rate, can Jae-won and his grandma come to the Pearsons' Thanksgiving dinner this year?
Although he hasn't quite succeeded in impacting William's old neighborhood, it looks like Randall has finally found his niche in this election. We'll have to wait and see if he, Beth, and Jae-won gel together as a team, but the Pearson campaign has certainly turned a page. A little thank you can go a long way.
Season 3 of This Is Us continues on Tuesday, Nov. 13, at 9 p.m. ET on NBC.