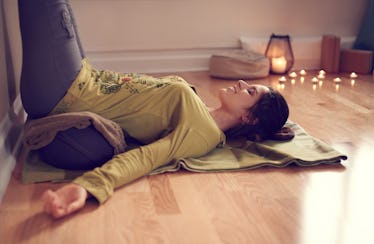 This Type Of Yoga Uses A Weighted Blanket To Help You De-Stress & It Looks Amazing
Shutterstock
There's honestly nothing better than the feeling of being securely tucked into your covers at night, and letting the weight of your cozy comforter encapsulate your entire body. And it seems that one woman loved that nurturing feeling so much, that she combined the luxuriously safe feeling that a weighted blanket can offer, with the power of a soothing, restorative yoga class. Her practice is called Kambal, or blanket, yoga, and there's a lot more to it than meets the eye. But I can pretty much guarantee it's about to become your new go-to way to relieve stress.
First of all, if you're wondering where the name comes from, Kambal is a Hindi word that refers to a blanket or shawl made of wool. According to Well + Good, Stephanie O'Hanlon Kayalar, RN, certified yoga instructor, and the founder of Kambal Yoga™, uses 12-pound blankets made of this Indian wool material to help students in her classes at Restore Balance in Glen Falls, New York unwind and de-stress.
Wool blankets have been used in the ancient practice of yoga for many, many years. If you have a yoga studio that you love going to on the reg, you may have noticed a stack of these blankets lying around somewhere, which can assist you in adding comfort and accessibility to your own practice.
However, O'Hanlon Kayalar takes restorative yoga to the next level by incorporating weighted blankets into her classes.
Well + Good revealed that O'Hanlon Kayalar's extremely chill yoga classes include guided meditations while students are lying down (aka yoga nidra), restorative poses to help release tension from tight muscles, full-body scans that evaluate where you may be holding the most stress, along with massage and reiki, which is a healing technique done through the hands. All of these things are, of course, done beneath the cozy comfort of weighted blankets. Honestly, this stuff sounds like pure bliss to me, and I'm itching to attend one of this woman's classes ASAP.
If you're wondering how adding 12 pounds of woolen weight on top of your body can soothe your stress and leave you feeling incredibly zenned out, there's actually a lot of science behind it that's pretty fascinating. According to Healthline, weighted blankets are extremely effective when it comes to calming anxiety, because they help your entire being feel grounded and safe, in the simplest way possible.
Research shows that weighted blankets also simulate deep pressure touch, which is essentially a form of therapy in which a sturdy amount of pressure is applied to banish stress and instill a sense of comfort.
Weighted blankets have also been a highly popular treatment method for adults and children with autism spectrum disorder, as they help them sleep soundly through the night.
However, in 2014, the non-profit organization Autism Speaks revealed that recent research suggests there's not much of a difference in the amount or quality of sleep that people with autism get when using weighted blankets, although they do report preferring the nurturing feeling of the weighted blanket as opposed to a regular blanket. This likely comes back to the idea that weighted blankets can lower levels of cortisol and increase serotonin levels in the brain, which would elevate feel-good chemicals in both people with autism and people without the disorder.
Whether you get the same blankets used in O'Hanlon Kayalar's yoga classes, make your own weighted blanket, or layer several comforters on top of each other for a similar effect, it's pretty easy to try it at home.
Essentially, any restorative yoga pose — like child's pose, happy baby, or reclining bound angle pose — can be made even cozier and more stress-relieving by including a weighted blanket, but adding the woolen weight to savasana or legs up the wall pose would be especially soothing.
But hey, if you ever find yourself around Glen Falls, you should totally hit up Restore Balance to try O'Hanlon Kayalar's special yoga class for a calming dose of de-stressing, all while being wrapped in the yogi-style blanket burrito of your dreams.