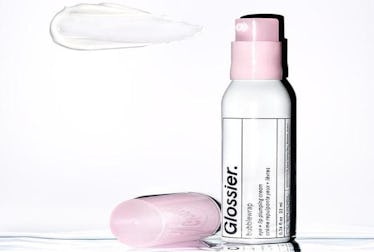 Glossier Dropped A New Skincare Product & You'll Be *Obsessed*
Courtesy of Glossier
On Monday, April 29 Glossier took to the brand's Instagram to announce that their most-requested skincare product has finally arrived. But what is Glossier's new Bubblewrap Cream? The lightweight cream is actually designed to be used on both your eyes and lips to provide major hydration to the two most sensitive areas of your face.
The two-in-one skincare product is available right now on Glossier.com and is retailing for $26. And if you're wondering what the benefits of the new cream are and why you should add it to your skincare arsenal, allow me to answer those questions for you.
There are hundreds and hundreds of skincare brands out there that are constantly coming out with new products (trust me, I know about most of them), so what sets Glossier's new cream apart from the rest? Well, for starters, it was created as a result of the brand listening to their customers wants and needs. Literally.
Upon announcing the launch of the cream, Glossier took to their Instagram stories to share tweets, comments, and posts from loyal Glossier fans that were not only asking for an eye cream, but explaining that they can't tell if or how an eye cream works and that the idea of purchasing one is pretty intimidating.
"Eye cream is the most intimidating thing for me, to the point where I have yet to purchase a single one," was one comment from a customer that Glossier shared on their Instagram stories. "I've been using eye cream since I were 22. And that is because I have the "smiley eyes." But trust is, I can never figure out if a cream actually WORKS. Am I the only one?" was another quote that was shared.
So with inquiries such as those, Glossier took it upon themselves to come up with an eye cream for their customers that promises to hydrate and plump, with the added bonus of being suitable for your lips as well. The cream is formulated with hyaluronic acid, squalane, avocado oil, and blueberry extract to create a water-in-oil emulsion of a cream that hydrates and protects even the most fragile areas of the skin. What's more is that undereyes and lips appear smooth and hydrated instantly, but the cream also works to continue to hydrate and protect over time.
To apply, the Glossier website suggests using each morning and night, after cleansing and before moisturizing, and to use your ring finger to gently press the cream into the area surrounding the eyes and onto the lips. The suggested amount is one pump your under your eyes, and one pump for your lips.
In addition to developing Bubblewrap as a result of listening to their customers, with the help of a third-party, Glossier conducted a clinical trial where 34 people tested out the product over four weeks and well — the results pretty much speak for themselves. A whopping 94% of users said that their eye area felt more moisturized immediately while 88% noticed increased hydration in the eye area after four weeks. As far as the lip results went, 85% of users said that their lips felt smoother immediately, while 91% of users noticed increased lip hydration after two hours.
What's more is that the cream claims to be cruelty-free and vegan, but also hypoallergenic, and safe for sensitive eyes and people that wear contact lenses. So if you're someone that has sensitive eyes then worry not as the cream has been tested and proved to be suitable for even the most sensitive skin. If you're a big Glossier fan, or you're simply in the market for a new eye cream that is proven to work, then head over to Glossier.com now to get your hands on Bubblewrap.