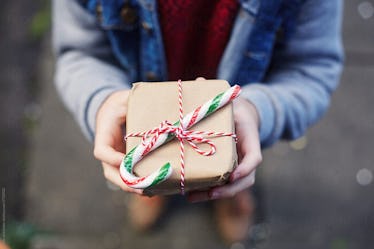 These 2 Women Behind Giving Tuesday Explain Why It's So Relevant In 2018
Sally Anscombe/Stocksy
It's official everyone, the holiday season is upon us. While the end of November brought us Thanksgiving feasts and special sales on Black Friday and Cyber Monday, let's not forget to appreciate the little things in life. So, for those looking to give back this holiday season, there's an extra special holiday that is all about charitable work. What is Giving Tuesday you may ask? Well, it'll definitely get you in the holiday spirit.
Founded in 2012 by New York's 92nd Street Y, Giving Tuesday is an annual holiday with one simple mission: to bring people together and give back. With that being its goal, it's safe to say that this movement has never been more relevant, or important, especially since the political climate has become increasingly more divisive since 2016.
Even though giving back is something we would ideally do daily, this particular holiday was formed as a reaction to the extreme consumerism Americans take part in on days such as Black Friday and Cyber Monday. Therefore, Giving Tuesday is an annual charitable holiday that takes place the Tuesday following Cyber Monday, which spotlights campaigns and organizations dedicated to bettering surrounding communities. In the six years since its creation, the movement has gone viral across the world, with over 150 countries participating in 2017.
And in a year full of trial and tribulation, a celebration of worldwide generosity is all the more relevant, according to Giving Tuesday co-founder Asha Curran, who is the chief innovation officer and director at the Belfer Center for Innovation & Social Impact. In 2012, the Belfer Center joined forces with the United Nations Foundation to start Giving Tuesday, and has seen it grow and become more relevant over the years, especially in regards to today's political climate.
The idea behind Giving Tuesday is that anyone, anywhere has something to give.
"There's been a lot of talk about how important voting is to a healthy democracy, and it's 100 percent true, but there's little talk about how important generosity [is] to a healthy democracy," Curran tells Elite Daily in an interview. "The truth is giving is an extremely important way to participate as a citizen. Communities that have more giving are healthier by almost every possible measurement."
According to Curran, the main purpose behind Giving Tuesday is to encourage everyone to give back, no matter how big or small. So, even if someone may not necessarily have the financial means to help out, that doesn't mean they can't give back in some other way.
"People sometimes don't identify themselves as givers because there's an image that to be a philanthropist you have to have a lot of money to give away," Curran tells Elite Daily in an interview. "So the idea behind Giving Tuesday is that anyone, anywhere has something to give, and that includes people who have always been the recipient of giving. There is no gift, act of kindness, or expression of generosity that is too small to make a difference."
This is a movement that young people are very involved with, and young people are online.
Curran says that Giving Tuesday has become a movement particularly popular among younger people — according to Refinery29, Giving Tuesday raised up to an estimated $274 million for nonprofits in 2017 within the United States alone. Curran says a huge part of the movement's success has been thanks to social media, where participants can share their donations, or urge others to donate, simply by posting about it. According to Giving Tuesdays' website, in 2017 the holiday saw more than 21 billion social media impressions. In 2018, social media presence has never been more important: not only can organizations use the platform to reach different demographics, but it also urges people to get more involved themselves.
"This is a movement that young people are very involved with, and young people are online," Curran says. "It just makes sense to give in the same place that you're connecting, consuming, and communicating. So the amount of giving online goes crazy on Giving Tuesday."
But the real-life effects of Giving Tuesday aren't just on the international, or even national, scale. Lisa Whalen, the program officer at the Bethel Community Services Foundation in the Yukon-Kuskokwim Delta of Alaska, knows all about what Giving Tuesday can mean on the ground, even though most of her work is done behind the scenes. Her initiative, known as #BethelGives, works with fellow organizations to raise money and provide shelter to Alaskan residents in need. This year will mark the third campaign she and her team have put together as part of Giving Tuesday. For Whalen's campaign, it's all about directly interacting with communities and individuals to find out what they specifically need. To do this, Whalen's organization puts together "Giving Wish Book," where communities such as the Bethel Winter House, search and rescue teams, and other groups put together lists of items they need and want this holiday season. Once the lists are put together, Whalen and her team upload the book online so that anyone can look them over and decide how to donate.
"People can use them to sit down with their families and see what people are asking for," Whalen says. "Maybe its socks for the Winter House or reflective vests for search and rescue, something like that. So that's exciting. People are working for us rather than us trying to get their attention."
For me, it's all about encouraging the spirit of philanthropy in children.
Both Curran and Whalen hope to see charitable work become more normalized worldwide, and to help raise awareness of how easy giving back can really be. If the conversation surrounding donating and giving back can become more of a mainstream topic near the end of 2018, they say, then who knows what change could happen in the years to come.
"You're seeing a shift in how common and acceptable and even encouraged it is to talk about giving in a social environment," Curran says. "In the early days of Facebook and Twitter you weren't necessarily seeing people posting about the issues that they care about and I think that's much more common and I think that's a really positive development."
In regards to the future, Whalen specifically hopes to bring the discussion around giving and philanthropy to school classrooms. "The earlier we can get kids interested in acts of generosity, that's the way it starts," Whalen says. "For me, it's all about encouraging the spirit of philanthropy in children. I feel like that's the next big place."
Interested in taking part in Giving Tuesday this year? Check out all the ways you can get involved this year. Whether its donating to nonprofits, volunteering, or supporting local charities, there's numerous ways to take part in Giving Tuesday and do your part in supporting those in need.