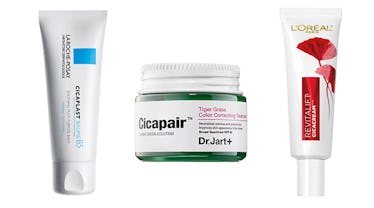 Cica Creams May Be The Sensitive Skin Solution You Need & They're Actually Affordable AF
La Roche-Posay/Sephora/Target
Having sensitive skin is hard. If someone stares at you sideways, you turn red like a tomato. You probably have a long list of allergies that would put Santa to shame. If your skin is out to murder you, then you need to try cica cream. What is cica cream, you might ask? Well, it's the new solution to all your old, frustrating skin problems.
Cica creams are not not named for what they do (like BB and CC creams, beauty balm and color correcting, respectively), but for what they contain. All cica creams have one key ingredient: Centella Asiatica. Take the first letter of the first word, and the last three letters of the second word to see where the term "cica" comes from. This key ingredient (which may also be referred to as Gotu Kola or Tiger grass) is a powerful medicinal herb that's been used for thousands and thousands of years in China, Japan, India, and Indonesia for various medicinal purposes. Herbalists say you can ingest the herb to improve your blood circulation, cure fevers, and help lessen the effects of anxiety. Topically, Centella Asiatica has been noted to help soothe burns, wounds, psoriasis, dermatitis, super sensitive, easily-irritable skin.
Cica creams also have intense anti-aging properties. As dermatologist Whitney Bowe, MD, stated in an interview with Refinery29, Centella Asiatica is "often recognized for its anti-aging ability to protect your skin molecules from degradation and bolster the skin's healthy barrier." In fact, this herb is even referred to as the "fountain of life" in Chinese medicine, thanks to its rumored effects on longevity.
Don't you just want to smother this powerful ingredient all over your face already? Luckily, you can in dozens of different ways. There are plenty of easily-accessible high and low end options to meet all your cica cream needs.
L'Oreal Paris Revitalift Cicacream
L'Oreal Paris Revitalift Cicacream, $14, Target
This powerful L'Oreal moisturizer is more anti-aging centric, which still having the extra added skin-soothing benefits. Here, the Centella Asiatica helps to repair the skin barrier, which will strengthen the skin and make it more resistant to signs of aging. Plus, this L'Oreal Paris Revitalift Cicacream also contains Pro-Retinol to help fight wrinkles. If you're looking for a skincare product to treat nearly every concern, this is it!
Soon Jung 5-Panthensoside Cica Balm
Soon Jung 5-Panthensoside Cica Balm, $10, Etude House
This $10 K-Beauty fave with help you to get hydrated on a budget. It will repair damaged skin faster than you can say Centella Asiatica. Physically effective and cost effective. What a blessing!
Dr. Jart+ Cicapair Tiger Grass Cream
Dr. Jart+ Cicapair Tiger Grass Cream, $48, Sephora
When I struggled with red patchy rashes all winter long thanks to my cold allergy (yes, it's unfortunately a real thing), I relied on my Dr. Jart+ Cicapair Tiger Grass Cream to keep my sensitivity at bay. I kept a tube by my bed and applied it to my affected areas. Not only did it soothe my itchy skin on contact, it also helped to reduce my inflammation. This product was my lifesaver during the never-ending cold winter months.
Dr. Jart + Cicapair Tiger Grass Color Correcting Treatment With SPF 30
Dr. Jart + Cicapair Tiger Grass Color Correcting Treatment With SPF 30, $52, Sephora
If you suffer from rosacea, this morning moisturizer will change the way you do your makeup. Not only does it help to repair the skin and reduce sensitivity, it also contains a green color correct that shifts to match the color of your skin once applied. Often as a makeup artist, I'll apply this product to my clients and have no need for foundation. The tint will neutralize most generalized redness. Any leftover areas of discoloration can simply be corrected with concealer. This all-in one product delivers serious bang for your buck.
La Roche-Posay Cicaplast Baume B5
La Roche-Posay Cicaplast Baume B5, $15, La Roche-Posay
This soothing balm is meant for all-over application. It's even approved for use on babies and children, so those with super sensitive skin need not fear. Get rid of irritated patches in no time.