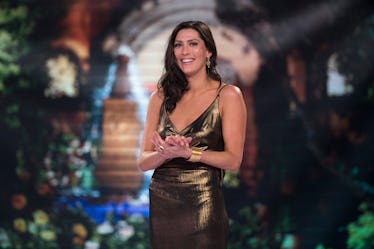 Before Becoming 'The Bachelorette,' Becca K. Had A Totally Relatable Job
ABC
Once someone nabs the position of Bachelorette, it's questionable if they will ever return to work once they finish filming and are presumably engaged. After all, they have a lifetime of Instagram deals guaranteed to them now! New Bachelorette Becca Kufrin still strikes me as a totally normal person who wouldn't give up her career after finding TV fame, but we'll have to wait and see how her season plays out. For now, I'm curious in what kind of work she's putting a pause on while filming The Bachelorette, so what is Becca K.'s job?
The 27-year-old has worked at the same company for over five years, starting a job at Minnesota communications agency Skyya in September 2012. Listed as an account executive for the company on LinkedIn, Becca has helped her clients receive promotion from outlets such as Good Housekeeping, Huffington Post, and the New York Times. In her position, she's often responsible for leading press events, but other duties seem to include developing, planning, executing, and evaluating the company's campaigns and branding. Basically, Becca is a boss (not that we didn't already know this based on The Bachelor finale!).
Graduating college in 2012 with a B.S. in Mass Communications, Becca seems to have been one of those lucky people who went almost immediately into a full-time job after college. After graduating, she had a summer internship with Minnesota's chapter of the Cystic Fibrosis Foundation, but began at Skyya only two months after her time with the foundation ended.
Seeing as Becca's job is to promote products and companies, I'm surprised that she hasn't come across as the typical fame-hungry contestant eager to talk about flat tummy tea on Instagram. Now knowing the details of her job, I feel even more optimistic that Becca's head is in the game and she's going to emerge from The Bachelorette with a solid fiancé. Speaking to Good Morning America, she seemed totally ready for the journey to begin:
The breakup, it was a while ago. And so I've moved on from that. My heart is in the right place. I know what I want. I'm ready for it. And so, I mean, even just meeting the guys [on "After the Final Rose"] just gives me so much hope for what's to come. And so I'm ready, I'm excited. I know all of the love I have to give.
While she seems to be working in an incredible position now, Becca paid her dues, as we all have in some way or another before snagging our dream jobs. Throughout college, she was a server at a restaurant, which is just about the most relatable student job out there. Restaurant Jonny B's social media has yet to mention Becca, but there's definitely a middle-aged waitress named Susan who mentored Becca and can't wait for her time to shine. Do you think that place will set up a Bachelorette fantasy league in honor of their former employee? Or maybe create a sandwich named after Becca?
Becca feels like the most down-to-earth Bachelorette in awhile, and I think her Minnesota friendliness has something to do with it. I wouldn't be surprised if Minnesota sees a spike in its tourism after this season, particularly thanks to the state representative who drafted a bill to ban Arie from Minnesota. Rep. Drew Christensen was a freshman at Prior Lake High School when Becca was a senior, so Minnesotans clearly look out for their own.
While Becca's taking a break from her publicist job, I have my fingers crossed for her to return to it after filming The Bachelorette. Even with a man at her side, a girl needs that 9-to-5 to fill her time. Plus, I think Uncle Gary would throw a fit if she gave all that up to be an Instagram celebrity.
The Bachelorette premieres on ABC on Monday, May 28, at 8 p.m. ET.