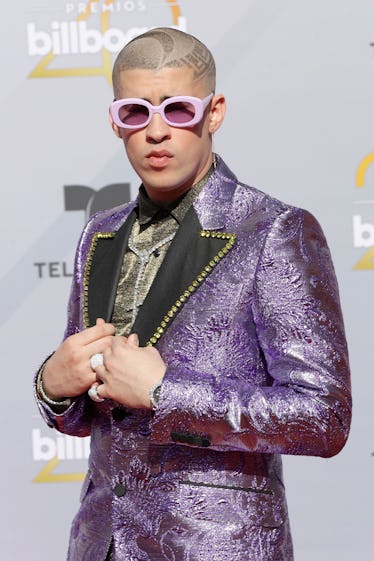 Here's Everything You Need To Know About Bad Bunny Before The American Music Awards
Isaac Brekken/Getty Images Entertainment/Getty Images
Bad Bunny is making a name for himself as a Latin trap and reggaeton singer. And all his hard work is really paying off. The 24-year-old Puerto Rican singer will be joining Cardi B and J Balvin on stage at the 2018 American Music Awards to perform their hit "I Like It." And that big news is causing a lot of curious minds to ask questions about the music industry's newest Latin sensation. For example, plenty of fans are asking one question in particular: What is Bad Bunny's real name? It definitely speaks to his Puerto Rican roots.
Bad Bunny was christened Benito Antonio Martínez Ocasio when he was born back in 1994. He hails from San Juan, Puerto Rico, and has dreamed of being a singer since he was just 5 years old. A recent profile by Rolling Stone essentially positioned Bad Bunny as one of the most popular Latin artists at the moment. So, you could say his star is on the rise and he's making all his dreams come true.
"He's the hottest Latin artist right now," Luis Rivera, Program Director for Latino Music at Music Choice told Rolling Stone.
Henry Cardenas, CEO of the Cardenas Marketing Network added, "I've never seen a performer develop so fast in the Latino market. When he comes out, nobody sits."
And that's not all the Rolling Stone piece, which was published in April 2018, revealed about the singer. Apparently, Bad Bunny amassed more than 4 billion views on YouTube. Pretty wild, right? There's more, though. Even though his career is just taking off, Bad Bunny has already contributed to over a dozen hit singles, like the aforementioned "I Like It" with Cardi B and J Balvin, and "Krippy Kush" with Nicki Minaj and Farruko.
Long before working with so many incredible and iconic artists, Bad Bunny was just a boy who sang in church. He told Rolling Stone the following about how he got started:
I'm from Vega Baja, a small area that's not a metropolis like San Juan where the majority of the genre's artists have come from. That's what's most surprising and incredible about this – I simply came from nothing [makes explosion sound], and that's that … When I was at school I used to stay on a balcony singing and people would stand around listening.
So, Benito Antonio Martínez Ocasio really exploded onto the mainstream music scene out of nowhere. That's pretty remarkable when you really think about it. But what's the key to all his success? Well, it's how he promotes himself.
"He's the opposite of how most artists are promoting themselves," DJ Eddie One of Los Angeles' Mega 96.3 told Rolling Stone. "He just puts out records on the daily on YouTube. Radio promoters don't work them the regular way records are worked."
All in all, it sounds like Bad Bunny, and his success, was really aided by social media. If what people are saying about him is true, then he's definitely a hardworking and determined artist. Can't wait to see what he brings to the AMAs!