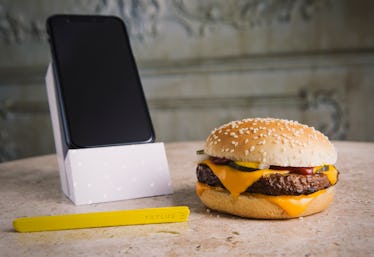 You Can Get A "Frylus" For Free At McDonald's This Week, & Here's What It Is
McDonald's
When you think of McDonald's, you most likely think of fast food, burgers, McFlurries, and french fries. But it seems as though the international restaurant chain is slowly but surely branching out into the appliance market. As you may recall, McDonald's released their own kitchen appliance last year called the "Frork," and it was a huge hit. Most recently, they came up with another creation called the "Frylus," and it's everything I could ever want. Since you're probably wondering what a McDonald's "Frylus" is, I'm here to give you all the dirty details. You definitely won't be disappointed.
In case you didn't know, Thursday, June 21 is #NationalSelfieDay. Although I'm sure many of you are most likely planning on celebrating with selfie sticks, smart phone cameras, and, if you're feeling a little bit fancy, tripods galore, McDonald's is celebrating by releasing their latest and greatest innovation, the Frylus. The Frylus is a mess-resistant stylus and foldable stand, which makes snapping a gorgeous selfie after eating hella messy food, like, ten times easier. Needless to say, I absolutely need this. It totally aligns with my messy eating and selfie-snapping lifestyle.
McDonald's came up with the Frylus after recently revamping their Quarter Pounders, according to a press release. Since they started making their burgers significantly juicier and hotter, they ended up creating the Frylus because they wanted customers to be able to take fresh selfies after eating their new juicy burgers. McDonald's didn't want eating to get in the way of selfie-snapping, and I'm completely on board with that.
The chain collaborated with Instagram model and selfie extraordinaire, Kirby Jenner, who is now the official face of the Frylus. Jenner starred in the Frylus ad, showing fans that they don't actually have to choose between taking a glorious selfie and getting messy fingers. Therefore, eating and selfie-snapping can now be simultaneous. Make sure to check out the ad below, if you haven't already — it's pretty fantastic.
Unfortunately, only a select few customers will be able to get their hands on a Frylus on National Selfie Day, according to a press release. On June 21, McDonald's will be giving away 100,000 Fryluses at over 2,000 participating McDonald's locations to any customer that purchases a Quarter Pounder. The Frylus will only be available while supplies lasts, so make sure you get there before lunch for an early morning Quarter Pounder. I'd really hate to see you miss out on this glorious photo opportunity.
In case you missed the McDonald's "Frork" last year, it was essentially a fork with french fry prongs. It was inspired by their new line of Signature Sandwiches, which were packed with a variety of toppings. The Frork was basically designed to clean up every last bit of sandwich left behind. I'm devastated that it isn't available in stores everywhere, and if you don't think a french fry-pronged fork is something you need in your everyday life, then I don't think we can be friends.
As someone who sports food stains on pretty much everything I own, anything that'll help me out in the field of messiness is a godsend. Since I'm big on the selfie game and appreciate anything described as "hot and juicy," I know that a Frylus will definitely improve my quality of life. Just make sure you get to McDonald's before everyone else on National Selfie Day, because these babies are definitely going to sell out quickly. I mean, really, taking a selfie on National Selfie Day is cool, but this is definitely bound to take your selfie game to the next level. Happy snapping (and eating)!