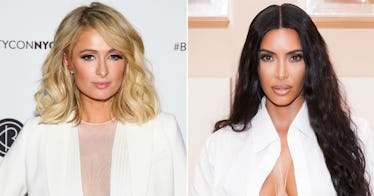 Paris Hilton's Career Has Taken Off Since Her Feud With Kim K & I'm Here For It
Paul Zimmerman/Getty Images; Presley Ann/Getty Images
Celebrity relationships and friendships are a rare breed. These famous faces have their lives played out in front of the masses, whether it's the good, the bad, or the straight-up shady. In Elite Daily's new series, It's Complicated, we're highlighting the biggest celebrity "feuds" that took over Hollywood and dominated our Sunday brunches for weeks on end. We'll take a deep dive into the lives and social media feeds of our favorite stars and dissect what happened in front of the camera, what went down behind the scenes, and everything you might have missed in between.
The world knows Paris Hilton primarily as a socialite and a former reality TV star. But there's so much more to her than that. Ever since her hit reality show The Simple Life ended, you may think she's fallen off the grid and somewhat into obscurity. But she's actually got a lot more going on in her life (besides her friendship-turned-feud-turned-friendly-acquaintance with Kim Kardashian). So, what has Paris Hilton been up to since her feud with Kim Kardashian? A whole lot, actually. While Kardashian was off amassing a fortune and creating an empire that's been heavily documented on her social media pages and Keeping Up With the Kardashians, Hilton was quietly honing her skills as a DJ. Yep, her friendship with Kardashian may have fizzled out a bit, but her career certainly hasn't.
If it surprises you that Hilton is now a successful DJ after leaving her reality TV days behind her, then you haven't been paying attention. Hilton's been going strong in the DJ game for years now and she's truly made a name for herself.
The 37-year-old started DJing back in 2010, but she didn't go pro until around 2012. In a 2017 interview with Billboard, Hilton detailed the very beginning of her music career, which started with the incredible combination of Jennifer Lopez and a Brazilian audience:
I started DJing like seven years ago. My first show was in Brazil. Like 30,000 people, closing for Jennifer Lopez, it was so much fun. I loved it so much that after that I really just got more into it and really just learned the technique and now I'm on the new Denon turntables, which just came out and are amazing to play on. I've just been having the time of my life. I didn't realize what a huge success I would be.
Hilton sounds like she's totally in love with her current career path, which is amazing!
Here's a look at Hilton doing her thing at Amnesia in Ibiza:
Although her musical efforts are bringing her lots of success now, that wasn't always the case. Hilton claims her famous name was a bit of an obstacle at first, telling Billboard:
In the beginning, I think when everyone heard that Paris Hilton was gonna be a DJ, people were like, what? And I understand — unless you knew me, because I've always loved music. Of course I don't blame them. I would have thought the same thing, but over the years I've really driven myself.
On top of mastering her DJ technique and overcoming people's doubts about her level of talent and skill, Hilton also had to deal with stage fright.
Over the years, Hilton has learned move past her initial hesitations and really feel out the crowd. She continued, saying:
The first time I ever played, I was so nervous, shy, but now I've been doing it for so long that I feel so comfortable on stage. I just love feeling the vibe and the energy and the people and I've been studying with some of the best people in the world.
Clearly, Hilton feels that she's grown as an artist. And her accomplishments actually do back up that fact. According to Hilton, she's "the only female DJ from America" to be granted residency at Amnesia — apparently, the best club in Ibiza. So, no matter what you might think about Hilton, she's a respected artist and she's worked super hard for it. She told Billboard:
I'm proud to say I've gotten so many compliments and so much credibility from it and I feel like I've worked so hard. I'm proud I do so many things with my work and my job, but this is the one I'm most proud about.
All in all, it sounds like Hilton has come so far since breaking off her close friendship with Kardashian back in 2008. Not only has she matured a great deal, but it sounds like she's found her true passion in life: music.