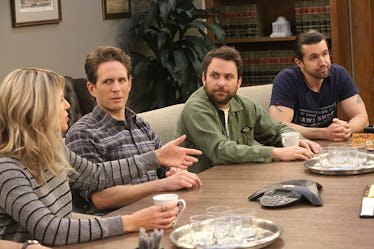 'It's Always Sunny' Just Revealed What Happens To Dennis In Season 13 & It Makes Sense
FXX
The Gang is about to lose one of its core members. After months of delay, FXX has finally released the official synopsis for the next season of It's Always Sunny In Philadelphia, and it's not looking good for Dennis Reynolds fans. What happens to Dennis in It's Always Sunny Season 13, you may be asking? After spending years with the Gang, it's finally time for Glenn Howerton's sex-crazed Dennis to leave Philly and begin the next phase of his life.
When fans last hung out with the Gang in the Season 12 finale, Dennis dropped a major bombshell when he revealed that he's a father — and that he'll be moving to North Dakota to take care of his son, Brian Jr. Dennis could have easily continued to go about his everyday shenanigans — the baby was conceived during one such shenanigan: a layover in North Dakota in the Season 10 premiere, "The Gang Beats Boggs" — but instead, he decided to step up and take responsibility. This was a huge decision for a character who's been incredibly child-averse for years, but fans saw it as a sign that Dennis was finally ready to grow up.
At first, many thought that FXX was just pulling one over on the show's fans with that cliffhanger ending — Dennis isn't exactly the world's best guy, and it's not out of character for him to lie — but it sounds like his departure will be very, very real. Get ready to cry, It's Always Sunny fans.
Here's the official synopsis for It's Always Sunny Season 13:
The Gang Returns–mostly–in the 13th season of the FXX original comedy series It's Always Sunny In Philadelphia. Mac (Rob McElhenney), Charlie (Charlie Day), Dee (Kaitlin Olson) and Frank (Danny DeVito) return to their duplicitous, scheming ways at Paddy's Pub, while Dennis (Glenn Howerton) takes on the new role of father in North Dakota… Even without Dennis Reynolds, the Gang has its hands full as Charlie hopes to have a child with The Waitress, Mac sets out to understand his newfound sexuality, Dee takes feminism to new heights, and Frank goes to great lengths for the Gang to experience the greatest moment in Philadelphia sports history – an Eagles Super Bowl victory.
OK, so there's some good and bad news in that synopsis. First, the good: It seems like Dennis will appear at least somewhat in Season 13. Hopefully, fans get to see Dennis in his new life as he struggles to be a father — and figures out how to live in North Dakota, which will likely be just as difficult for him as the whole fatherhood thing.
Now the bad: If Dennis does make an appearance, it seems like it will be short-lived. Fans will likely only get to see brief snippets of Dennis' new life, and it seems like the rest of the Gang will be stepping in to fill up his screen time. My only hope is that the new father at least makes it back home for the Eagles Super Bowl party, because no one does celebratory debauchery quite like Dennis.
In April, Kaitlin Olson, who plays Dennis' twin, Dee, gave fans some hope when she told The Wrap that Howerton's character will appear in Season 13 in some capacity:
I do know that Glenn Howerton is coming back for some episodes. I don't know the specifics, but I do know how he's being introduced back in, and it is absolutely hilarious.
However, Howerton immediately denied Olson's claim, and he took to Twitter to set the record straight. The actor jokingly referred to Olson as "some bird" (the Gang often compares Dee to a bird), writing, "That stupid dumb flightless bird doesn't know what she's saying. Dennis is NOT confirmed for season 13. We are writing now. Stay tuned."
Now that FXX has released the official synopsis, it seems like Olson was right after all. Come on, Dennis, don't you know by now that you should listen to Dee?
It's Always Sunny In Philadelphia Season 13 premieres on September 5 at 10 p.m. ET on FXX.