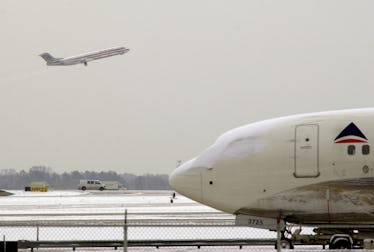 Delta Is Offering Refunds During "Bomb Cyclone" Grayson For These Cities
Erik S. Lesser/Getty Images News/Getty Images
If you're located pretty much anywhere on the East Coast right now, you're definitely livin' la vida fria. Between excessive snowstorms, ice, and windchill, global warming is definitely doing us dirty right now. And with the impending winter storm Grayson, everyone from Maine to Florida is about to experience the most hardcore winter weather they may have witnessed in their lifetime. So if you're about to fly through, leave from, or return to the frigid East Coast, flight cancellations from winter storm Grayson might be something to think about. But, don't worry if you're flying Delta, because they're actually doing fliers a major solid during this chaotic winter weather.
According to Delta's website, air travel throughout the East Coast, particularly the Mid-Atlantic, will likely be affected starting Jan. 3. Any flights to, through or from: Allentown, Pennsylvania; Baltimore, Maryland; Harrisburg, Pennsylvania; Newport News, Virginia; Norfolk, Virginia; Philadelphia, Pennsylvania; Scranton, Pennsylvania; Washington-Dulles, Virginia; and Washington-Reagan, in Arlington, Virginia, will probably be hit by the wild weather. Anyone traveling through any of those cities will be allowed to change their flight, starting on Jan. 3 through Jan. 4, to use for any flights through Jan. 7.
Customers looking to reschedule a flight because of a cancellation or major delay will be allowed a refund for their unused ticket. Even if the flight isn't cancelled or delayed due to weather, customers flying through, to, or out of any of those cities can make a one-time alteration to their Delta ticket, without acquiring a cancellation fee. Since this bizarre weather is about to literally bring all of us into eternal hibernation, now is the time to change any upcoming Delta flights, especially if flying and turbulence are major anxieties. I'm totally calling myself out on this one, but traveling might be way too harrowing during Grayson, and I'm definitely not looking to risk it.
To check your flight status, or to get updates sent to your cellphone or email, definitely make sure to sign up with One-Time Flight Notification. You won't regret it, and you may save yourself from hours on hours of waiting in the stale, stinky airport.
If you're totally unprepared for Grayson to make his mark on North America's unsuspecting East Coast, you might want to make sure you know a little bit about the caliber of storm he's bringing our way. Grayson is predicted to be what is called a bomb cyclone, which is essentially a winter hurricane, filled with snow, ice, freezing rain, and extremely high winds. Between immense amounts of precipitation and major air turbulence, flying may not be the best option this first week in January, so Delta's recommendation to make a flight change is definitely a good one.
This past December, Hartsfield-Jackson International lost power for 11 hours due to an electrical fire, right before the holidays. According to CNN, it had been one of the busiest travel days of the year, and Delta lost $25-$50 million, through reimbursing almost 1,400 customers for their flights, as well as covering hotel fees. According to Delta Airlines CEO, Ed Bastian in an interview with Atlanta Journal-Constitution, Delta was seeking reimbursement, and was planning to meet with the airport, as well as Georgia Power. Luckily, Delta was able to get ahead of the disaster this time, and provide customers with options to change their plans.
While the storm might be stressing you out, don't worry about your flight itinerary, as long as you're flying with Delta, because they have our backs right now. If you're lucky, and you don't have to leave your house during snow monster, Grayson, just stay warm. Grab your snuggie and a bowl of popcorn, and honestly, just don't even think about leaving your bed.
Check out the entire Gen Why series and other videos on Facebook and the Bustle app across Apple TV, Roku, and Amazon Fire TV.