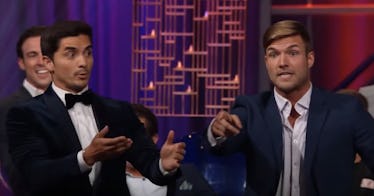 Christian & Jordan Had Beef Long Before Their 'Bachelor In Paradise' Fight
ABC
Former Bachelorette contestant Jordan Kimball is at his most quotable when he's dissecting another contestant's antics, and his past Bachelor in Paradise feud with a man best known for dressing in a chicken suit remains iconic. After Jordan returned to Paradise for Season 6, he found another target in Christian Estrada, a Night One castoff from Becca Kufrin's season of The Bachelorette. Considering the two barely interacted with one another on the beach — that is, until they broke out into a fight — fans were left wondering about what happened with Jordan and Christian before Bachelor in Paradise that might have caused things to get physical.
Jordan has clashed with plenty of men during his time in Bachelor Nation, but his violent encounter with Christian on Week 2 of Paradise felt a little out of the blue. In honor of his buddy Clay Harbor's feelings for fellow contestant Nicole Lopez-Alvar, Jordan tried ripping down a piñata Christian had presented to her, and the two got into a heated physical fight. Where did that come from? As Jordan explained upon Christian's arrival, the other man was cut on the first night of Becca's season and, according to Jordan, he spent the entire time hanging out by the meatballs and none of the other men knew his name.
The Florida model also recalled that on Becca's "Men Tell All," Christian started attacking Jordan's career, poking fun at Jordan's modeling career. (Christian explained he himself was a banker while doing modeling gigs on the side.) During that interaction, Jordan also poked fun at Christian's fashion choices. Based on Paradise's brief clip of the episode, Jordan's harsh feelings toward Christian seemed extreme, even for the spitfire contestant, but to fully understand their past, check out this complete "Men Tell All" moment below.
Speaking up around the 4:35 mark, Christian pulled a classic early castoff move by inserting himself into Bachelorette drama he wasn't even around to witness. The issue at hand was really between Jordan and future Bachelor Colton Underwood, whose debate about Colton's pre-show relationship with Tia Booth segued into talk about Jordan's personality. Christian seemingly took Colton's side by questioning the validity of Jordan's career. Both men left their seats to talk in each other's faces, with Jordan saying the bit was Christian's attempt for camera time. Christian also called fellow Night One contestant Kamil Nicalek "the real model," and this is when the episode got really odd.
When Christian dragged him into this inexplicable argument, Kamil told Jordan, "Some people are just basic models." This prompted Christian to say, "You hear that, Jordan? You're basic."
Of course, in true Jordan fashion, he won the conversation, waving off Kamil and Christian and coming to a conclusion everyone can still agree on a year later: "Grocery Store Joe, what's up?" Ah, remember when Grocery Store Joe would just smile and everything in Bachelor Nation would feel all right again?
Paradise's Aug. 13 episode ended with Jordan and Christian's fight intensifying, and the following week's promos show several security guards intervening in their dispute. What's coming up can't be pretty, but I appreciate the blast from the past Jordan and Christian's squabble has inspired.
Season 6 of Bachelor in Paradise continues at 8 p.m. ET on Monday, Aug. 19, on ABC.