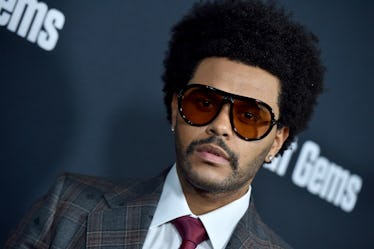 Fans Have 1 Urgent Question About The Weeknd's Face After His AMAs Appearance
Axelle/Bauer-Griffin/FilmMagic/Getty Images
On Sunday, Nov. 22, fans tuned in to watch the 2020 American Music Awards. One of the most head-turning moments of the night was when The Weeknd went on stage to accept the award for Favorite Soul/R&B Album. Fans only had one thought while he was on screen: What happened to The Weeknd's face? The answer has to do with his album After Hours.
The Weeknd was up against other huge artists in the Favorite Soul/R&B Album category at the AMAs. Doja Cat was nominated for her hit record Hot Pink, featuring her Hot 100 No. 1 single "Say So," while Summer Walker was tapped for her debut LP, Over It, which brought hits like "Playing Games" and "Come Thru." In the end, The Weeknd came out on top with his fourth studio album, After Hours. To many fans, the win was no surprise, as his singles "Heartless" and "Blinding Lights" have been ruling the charts all 2020. Both went No. 1 on the Billboard Hot 100, and "Blinding Lights" even went viral on TikTok. Now, The Weeknd can add Favorite Soul/R&B Album to his list of achievements this year.
When the Weeknd went to collect his award at the AMAs, viewers were confused because his face was all bandaged up. Those who haven't been keeping up with the singer actually thought his bruises and nose injury was real. He even had it on for his AMAs performance, so it definitely looked convincing. Take a look below.
Not everybody was clueless, however. Fans who've listened to The Weeknd's After Hours knew what was up right away. His After Hours album cover featured him with a bloody face, and his "Blinding Lights" music video showed him bruised, too, so the look was just him bringing his album concept to life. Still, that didn't stop Twitter users from trolling The Weeknd for taking his concept a little too far this time around.
All in all, the reactions were all over the place.
Don't worry, everyone. The point is, The Weeknd is OK, and the bruises were just makeup.