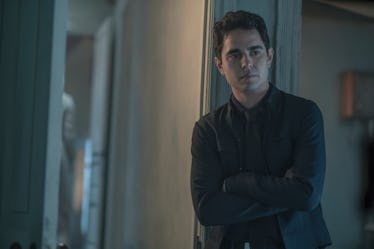 4 Things 'Handmaid's Tale' Fans Need To Remember About Nick In Season 2
Hulu
The Handmaid's Tale is a show primarily about women. June is the star of the series, trapped in Gilead, attempting to escape with her baby and perhaps also with her older daughter as well. Her main foils are women, from the Wife of the household where she's assigned, Serena Joy Waterford, to Aunt Lydia, the head of her order, whose job it is to keep June docile and breeding for the Commander she serves. But that doesn't mean there are no men is June's life, she has a lover, Nick. What happened to Nick in The Handmaid's Tale Season 2? His life is just as screwed by Gilead as the women around him.
In Season 1 Nick is introduced as the Waterford's body man. He's referred to as "The Chauffeur," but his job is closer to a valet, doing whatever delivery jobs Commander Waterford needs, and also, perhaps acting as an Eye in the household to keep a lookout for rebellion.
That all changes when Serena Joy has June sleep with Nick in a desperate move to get the Handmaid pregnant. It works, but June and Nick bond as lovers, and by the end of Season 1, Nick is actively working on getting a now-pregnant June out of Gilead with their child.