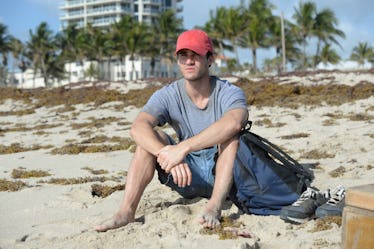 Refresh Your Memory On Andrew Cunanan's Story Before Watching 'American Crime Story'
FX
The Assassination of Gianni Versace: American Crime Story begins on FX this week. But the title is a touch misleading. Certainly Gianni Versace, played by Édgar Ramírez, gets top billing, and his name and face are plastered all over the advertisements. But the Versace murder is merely a jumping off point to tell the tale of the man who reportedly killed him, Andrew Cunanan, and how the manhunt was bungled so badly that it got to the point where someone like Versace died. What happened to Andrew Cunanan? How did he wind up in front of Versace's mansion, gunning him down on that July day? And why isn't his name more well-known? Why wasn't his trial publicized?
The answer to that last question was that there was no trial. Cunanan didn't live long enough to stand trial for Versace's murder, nor for the four others he allegedly killed. It's why, to this day, when people talk about Versace's death in an official manner, Cunanan is always called his "alleged" killer. He was never able to stand trial, and was never found guilty.
What happened to Cunanan? He committed suicide as the police finally closed in around him, a week after Versace's death. It took them long enough to get there, though. Cunanan's alleged murder spree had been going on since the April before Versace's death.
Cunanan's killings allegedly started while he was staying with his ex-lover David Madson and a friend named Jeff Trail, both of whom it was suggested had tired of him. According to newspaper reports from the time, Madson had broken up with Cunanan because he felt there was something off about him. Cunanan's friend, Jeff Trail, reportedly agreed to let Cunanan stay in his apartment, but didn't want to stay with him, because he was "tired of the showboating."
Trail was the first one Cunanan allegedly killed, after a wild night of partying. Some thought Madson might be an accomplice, since he and Cunanan were allegedly seen out and about the next day. (Madson's family argued he was a hostage.) Madson's body was reportedly found a few days later.
Exactly how or why Cunanan found his next alleged victim, Chicago real estate tycoon Lee Miglin, was not clear at the time. Miglin lived a block from the nightclub area, and Cunanan was a party boy who always seemed to be heading to the next club. Some believed Cunanan surprised Miglin after following him home. It may have been as simple as Cunanan trying to steal a new car from a house near the club as he left, since the one he was driving had reportedly belonged to Madson, and Miglin just happened to be in the garage.
Miglin's death was what took Cunanan's murders to the papers, since Cunanan allegedly used "a screwdriver, a gardening saw, and a heavy bag of cement mix."
According to reports, Cunanan then headed for New York before driving down to Florida. On the way south, he allegedly killed his next victim, William Reese, in what seemed (again) like a desperate attempt to trade cars, as Miglin's luxury vehicle was now plastered all over the papers.
Cunanan then reportedly moved into the Miami area and basically disappeared. The cops couldn't find him. He lived for two months without anyone catching on to who he was or really looking twice at him.
And then, on July 15, 1997, he allegedly shot Gianni Versace.
After that, it was basically all over. The killing was sloppy. Cunanan reportedly fled on foot, leaving behind Reese's truck and his own identification. According to reports, he wound up camped out in a houseboat, unable to leave the premises lest he be seen and arrested. He allegedly didn't handle it well, and couldn't keep himself inside. By the time the FBI was releasing a recording by his friend Elizabeth Cote, begging him to give himself up, he'd already been reportedly spotted by the houseboat's caretaker, and the local cops were on their way. Cunanan was found having committed suicide on July 23, only seven days after Versace was gunned down.
The Assassination of Gianni Versace: American Crime Story airs Wednesdays at 10 p.m. ET on FX.