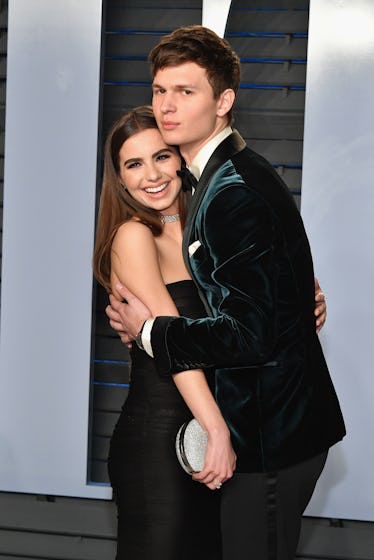 Violetta Komyshan Gets Real About Her Job & It's Cooler Than Ansel Elgort's — EXCLUSIVE
Dia Dipasupil/Getty Images Entertainment/Getty Images
You may be familiar with Violetta Komyshan's adorable relationship with long-term boyfriend, Ansel Elgort, but you should also know the 22-year-old is a badass woman who can stand on her own two feet. In an interview with Elite Daily, Komyshan got real about female empowerment in honor of International Women's Day on March 8, 2018. BTW, Violetta Komyshan is a ballerina and knows how to kick some serious ass, on and off the dance floor. That's right, Elgort. Take a seat.
I met Komyshan at the Manhattan Plaza Racquet Club on 43rd Street. Komyshan partnered with Keds to host an event at the tennis clinic to celebrate International Women's Day. Not only did guests enjoy complimentary tennis lessons, but they also got to snack on awesome refreshments and get a look at Keds' gorgeous shoe collection. "I'm so excited to be here," Komyshan tells me. "I actually just saw a photo of Katharine Hepburn wearing Keds, playing tennis, which is so cool since she's been around for so long."
Komyshan has been wearing Keds for years now, so the partnership seemed like a perfect fit. "You see [Keds] in Dirty Dancing... everybody had Keds, everybody wears them. I remember being in high school and I loved Keds... would wear them all the time with shorts and dresses in the summertime ... I'd wear Keds as more of a dressy kind of look... A simple, simple summery dress, maybe blue or white, with the white Keds is my favorite." Komyshan's look for the event was exactly on brand, sporting purple Keds and a fun, floral dress.
BUT I WASN'T HERE TO LEARN ABOUT KOMYSHAN'S FASHION CHOICES, obviously. Girl gets enough of that on the red carpet. I wanted to learn about her job as a real-life ballerina.
Komyshan started dancing at a pretty young age, but not as young as you'd think. "I started when I was 9, which is kind of late for dancers... they start at 5 or 6," Komyshan explains. "9 was good I think because it helped me save my body. I didn't start point super young... I started at like 10 or 11, which is more normal to start point because your feet are still forming."
Komyshan's family actually ended up encouraging her to pursue a career as a dancer. "Everyone was like, Violetta, you should go into ballet," she explains. "I was hyper-extended everywhere, flexible and kind of scrawny, except my shoulders were really hunched over so my grandma was like, 'You need to go do something to help your shoulders!' And I kind of just got into ballet."
From there, Komyshan started watching videos and old-school movies about dance, and then she made her way to NYC to start auditioning. "I auditioned for Eliot Feld's company, his school, Ballet Tech, and I got in and stayed there for the rest of my life," she says.
But what's a day in the life of a ballerina actually like? According to Komyshan, it's a lot of work. "You have tech in the beginning of the week, which means you come in at 11," she explains. "Our shows are at 7:30, so now we're coming in at 4 to have warm up. You do a general ballet class to stretch out and stuff, and it's so important 'cause when you don't do that, you feel just... so not ready. You're like, 'What's wrong?' 'I don't know where my legs are!' Ya know? And then we go into hair and makeup." Komyshan says she and the other ballerinas all do their own hair and makeup. No glam squad needed, fam. The girl doesn't just crush her dance routine, but she also knows how to blend a fierce smokey eye as well. My hero!
After hair and makeup, Komyshan says the dancers "just roll out, massage, and then get on stage." "The audience is there and you're performing and it's bright lights and it's beautiful," she adds. "You're exhausted, but you're happy. You always have the happiness."
Sounds like Ansel Elgort found quite the catch. Break a leg out there, Violetta!